Healing with medicine, yoga, ayurveda, jyotish and vedanta
I want to share with you a true story of karmic disease and karmic healing. Disease can be karmic, i.e., not sure of the cause, but meant to happen for self-transformation and growth.
When we have disease, we always asked ourselves the question, "Why? Why me?" It is difficult to see that disease can be an opportunity, an opportunity to slow down, to reevaluate oneself, and to reconnect with what is essential in one 's life.
In the best case scenario, we also reconnect with the healing spiritual force within us and within Mother Nature, we reconnect with our natural ability to pray. Disease can make us strong in some way, restoring our faith, and teach us that there are higher forces at play that govern our lives, thus teaching us to surrender, accept, to become humble, and to contemplate life and death.
The other possibility is that disease can challenge our faith, awaken not our spirit, but our anger and hatred, the accumulation of all bitterness, desires unfulfilled, and disappointments of the past. Disease brings lots of negativity to the surface. Disease is purgatory and painful, detoxifying.

A young lady named Hannah discovered she has breast cancer. She is in her 40s, a mother of two, happily married, manager at a bank, and normally a joyful person. She has never done yoga or meditated before. She tried to keep her composure during the days between the discovery of the lump and the confirmation that it is cancer. Her mother and sister are yoga teachers. So at that time, she took the trip to the ashram and asked for an appointment with the head teacher, the swami in charge, i.e., myself.
I looked at her and felt her anxiety. I even checked her Vedic astrology chart, which normally will reveal some karmic reasons for something happening. The chart is actually quite positive and balanced, there are no clear causes, no terrible imbalances, no long-term negativity, no big inner drama which would explain cancer. I am actually perplexed. She is in her Jupiter period of life which is a good period for learning, not a Saturn period where we have to pay our karmic debts.
Doctors diagnosed cancer and prescribed breast surgery and a course of chemotherapy. She lost her hair, became weak and pale. I prayed for her but did not know what to do besides following my intuitive advice as a yoga therapist: rest, recharge prana, take time, do Ayurvedic pancha karma . Her mother had a lot of faith. One day, She asked me to pull a fortune message card, the kind in a Chinese fortune cookie or on your yogi tea bag. The message said, "You will make a difference in somebody's life". The mother immediately said, "It is Hannah, you will save Hannah! I kept silent. Such expectation of cure of the number one disease killer placed on me!
Hannah went to India for 3 weeks of pancha karma treatments at the famous Ayurvedic healing village Vaidyagram, near Coimbatore. This is between her 3rd and 4th rounds of chemo. She wore a turban over her head, having lost all of her hair. She took time from her job and from her family, a new course of events. Her husband and his parents took care of the kids. She came back from her pancha karma feeling better, about to resume her chemotherapy.
It happened so, as karma dictated, that , one day I asked point-blank to the Ayurvedic Dr. Ram Kumar, "What should we do for her? Ayurveda pancha karma, but now what?
Dr. Ram Kumar said, "Maybe she can meet me and another cancer specialist doctor that I will meet for an international conference on cancer in Malaysia!
It happened so that the dates of the conference are a holiday, and Hannah was able to take time from work and her sister was able to accompany her.  During the conference, hearing many doctors talking about cancer, hearing stories of healing from cancer patients, Hannah gained strength. The doctors advised her to stop her chemo if hereditary cancer is not in the family, (she did not know that her own mother was a cancer survivor), and she agreed.
Upon return, she quit her high paying bank manager job, and checked into the ashram for a two months stay. She practiced yoga asanas for the first time, twice a day, practiced breathing exercises and conscious relaxation. She ate vegetarian food twice a day, did her one-hour karma yoga chores in the ashram, and took her time walking in the forest. I saw her walking slowly, relaxing and ẹnjoying herself. After a month of yoga vacation, she signed up for Yoga Teacher Training Course and learned yoga philosophy, yoga psychology, and followed the rigorous yoga discipline seriously. Indeed the disease opened a new door of knowledge for her. She was happy!

After two months she came back and the doctor was amazed. There was no trace of cancer! Even her hepatitis of 5 years that was controlled by medicine had disappeared. Her doctor was so amazed that he himself came to the ashram and sent his own parents for yoga retreats.
The reoccurence of cancer is a commonly known fact. After returning home, she took a lower position in the bank and continued with her daily routine of yoga, meditation, pranayama, relaxation and vegetarian diet. Her spirit came back strong along with her faith.  Ten days later she came back impromptu for the Vedanta Self-enquiry course. I hesitated to take her as I did not want to compromise her new-found balance. I gave her a one-day trial and questioned her.
She was ready. I let her follow the 10-days intensive course, during which she fearlessly shared her past trauma, always with an inner smile. She nailed down the idea that, "I am the immortal atman, I am not this body, not this mind." She is free from fear!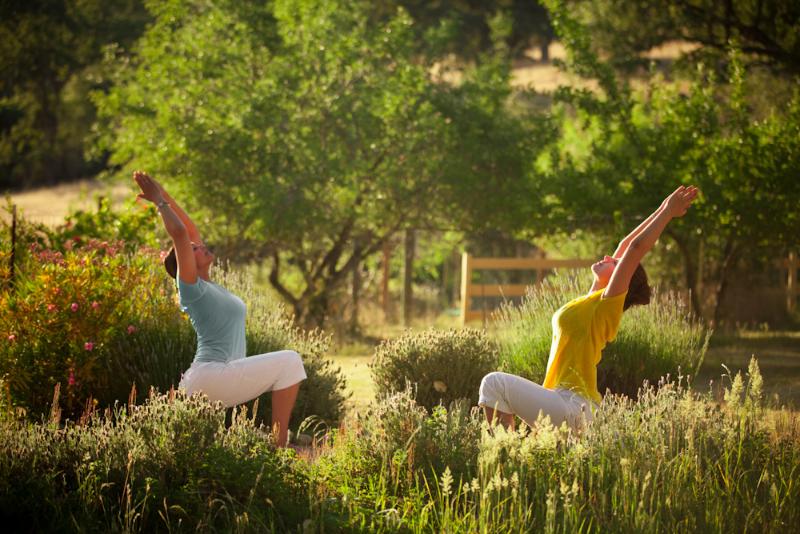 The medicine of karma, Yoga, Ayurveda, Jyotish, and Vedanta work together for this amazing self-transformation journey.
Sivananda Yoga Health Educator Training (SYHET) practitioners are trained to be the health catalyst; in wisdom counseling, prayer, yoga teaching, Ayurveda therapy and working with doctors. Disease is not simple. Life and death are not simple. Consciousness heals. Diseases are opportunities. May all become Yoga Health Educators and may Yoga and Ayurveda therapy be used more alone or with medicine!