Intermediate Yoga: Apply Four Paths of Yoga at Home
with Swami Sankarananda
February 10 - 15, 2019
Description
This five day course is ideal for those who want to deepen their Yoga practice. This course gives you the full Yogic experience, reviewing and expanding on knowledge of Yoga asanas, breathing exercises, meditation, mantra chanting and Yoga philosophy for increasing Prana and balancing the mind. You will be immersed in the daily routine of Yoga and enjoy wholesome vegetarian meals.  You will leave feeling rejuvenated, with a new understanding of the richness of yogic life to bring to your practice at home.
Topics include:
Yoga asana benefits
Prana and pranayama
Purification of the nadis
Mechanics of the mind
Yamas and Niyamas (ethical foundations)
Yoga philosophy
Techniques for emotional balance
Daily Schedule
06:00 – 07:30 am – Satsang: Silent meditation, chanting and lecture
08:00 – 10:00 am – Yoga Class: Asanas and Pranayama
10:00 – 10:45 am – Vegetarian Brunch
11:00 – 12:00 pm – Karma Yoga (selfless service)
01:00 – 02:30 pm – Workshop – Four Paths of Yoga
03:00 – 04:00 pm – Free Time and Nature walks
04:00 – 06:00 pm – Yoga Class: Asanas and Pranayama
06:00 – 06:45 pm – Vegetarian Dinner
08:00 – 09:30 pm – Satsang: meditation, chanting and lecture
Pre-requisite
Completion of Beginners Course is Recommended, however all are welcome.
Arrival and Departure
Arrival: The course will begin on the first Date with Ashram Orientation at 7pm followed by Satsang at 8pm.
Departure: The course will finish on the final date at 2pm or after the final workshop.
We encourage you to arrive by 4pm on the first Day making the most out of the afternoon by joining us for the Asana class and dinner. You are always welcome and encouraged to extend your stay to any length before or after the course. Please indicate your desired arrival and departure dates on your registration form.
What to Bring
Recommended – "The Complete Illustrated Book of Yoga" by Swami Vishundevananda
Personal Items: slip on shoes, loose comfortable clothing, writing materials, meditation shawl or blanket, yoga mat, flashlight.  All books and materials are available in our boutique.
Teacher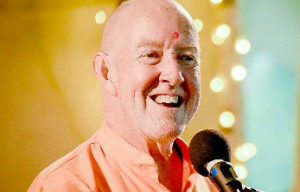 Swami Sankarananda
Swami Sankarananda is a simple pilgrim. Not finding peace in a life of business success he turned inside, became a disciple of Swami Sivananda, and in 2013 he began to walk across and through the USA in a pilgrimage for peace, completing this in early 2016. He now…
Learn more about Swami Sankarananda