Self-Inquiry Intensive
with Gajananam
February 22 - 24, 2019
Description
The ancient Rishis or seers, having delved into the depths of their being, closely analyzed all of the layers of the human existence. In this process of self-inquiry, they discovered that in essence we are but pure consciousness, and various factors and conditionings cloud our vision and hide this truth. They laid out practices for clarifying our vision so we too can have this first-hand knowledge. Yogic disciplines have been prescribed as preparatory practices, for purifying the heart and balancing the mind. For unveiling the deeper truths, Vedanta has been prescribed.
Vedanta claims that one of the most misunderstood words in our language is "I". We take its meaning for granted without any analysis. Why is this an issue? Our mistaken identification with the body-mind complex and our circumstances causes us much unnecessary suffering! Many other phenomena are thoroughly analyzed by us, but we don't inquire into the inquirer itself. Various Vedantic methodologies are prescribed for discerning who it is experiencing the world through this body-mind-sense complex. Vedanta offers a three-step system for gaining this understanding – Shravanam or listening to the Upanishadic teachings from an experienced teacher, Mananam or reflecting on them to help clarify our doubts, and Nididhyasanam or meditating upon these truths.
In this weekend intensive we will introduce the Vedantic system of Self-inquiry and a few classical methodologies to help deepen our understanding of this universal vision.
This weekend intensive will help clarify the roles of Yoga and Vedanta in our spiritual journey, and deepen our understanding on the Vedantic vision.
Daily Schedule
Saturday
6-8am Satsang: Silent meditation, chanting and lecture
8-10am Open Asana & Pranayama Class
10am Brunch
11am Karma Yoga
12-1:30pm Self -Inquiry Workshop #1  
2-3:30pm Self-Inquiry Workshop #2
3-4pm Free Time and Nature walks
4-6pm Open Asana & Pranayama Class
6pm Dinner
7-8pm Free Time
8-10pm Satsang: meditation, chanting and lecture
Sunday
6-8am Satsang: Silent meditation, chanting and lecture
8-10am Open Asana & Pranayama Class
10am Brunch
11am-1pm Self-Inquiry Workshop #3
Teacher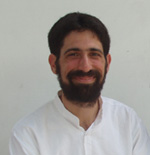 Gajananam
Gajananam is a direct disciple of Swami Vishnu-devananda and is the founder/director of the Vishnu-devananda Yoga Vedanta Center in Fremont, CA. He delved into various yogic disciplines while serving and studying at the Sivananda Yoga Vedanta Centers in the mid-1980's…
Learn more about Gajananam