Emotional Intelligence Through Yoga & Ayurveda: Rasa Vāda
with Arun Deva
May 17 - 19, 2019
Description
We understand alchemy as the transformation of base metal into gold. In Vedic terms, however, it is best described as rasāvāda: the revealing of our Essence. Thus we are both the dross metal as well as the gold revealed through the alchemy of our consciousness. Rasa which means essence also refers to the flavors of our lives: the emotional content. When we turn our emotional dross of fear, anger and grief into the gold of creativity, innocence and joy we learn to surf the waves of our lives no matter what the tide.
When our emotional state is one of creativity, innocence and joy, we see beauty, feel compassion and instinctually open to universal waves of loving. When our emotions are dominated by fear, anger and grief, we become susceptible to the 6 enemies of the mind: lust, rage, greed, jealousy, envy and delusion.
How do we understand the emotional body? In āyurveda the mind begins in the heart, reaches downwards into the gut and upwards into the brain. The connections are easy to see as seats of instincts, feelings and sensation/thought. All our instincts and our rational thinking revolve around the mediating emotional state.
After 9 years of teaching Emotional Intelligence workshops at Sivananda Yoga Farm, the content has been greatly expanded to turn it into an intensive.
Previous attendees are invited to come further deepen the journey as well.
Topics
Friday Evening Satsang 8:30 – 9:30 pm
Foundational aspects of Ayurveda and Yoga and where they intersect in therapy.
Saturday 8-9:30 am:
The preliminaries: diet, lifestyle and relationships
Saturday 12:00 – 3:00 pm
Understanding the tools of yoga in emotional therapy. We will examine the roles of kriya, vinyāsa, āsana, prānāyāma, mudra, bandha, japa, dhārana and dhyāna. That is cleansing breathing, sequencing to place in intelligent postures, awareness breathing, external and internal symbolization, internal locks, chanting, becoming aware through breath and body and finally sitting in awareness.
Saturday Evening Satsang 8:30 – 9:30 pm
Connecting sattva (clarity) rajas (restlessness) and tamas (inertia) to our individual natures of vāta, pitta and kapha: personalizing our emotional healing.
Sunday 8-9:30 am:
Rasa Vāda: Finding that the logic inherent within wisdom and compassion equates with love and intelligence. This is the deeper healing, where we end up when we have learned the logic of the body as correct action, breath as correct speech and mind as superior contemplation. This is the alchemy of transforming from mundane realities to higher planes of consciousness.
Sunday 12:00 – 3:00 pm
Practical Session that will utilize all the yogic tools we speak about on Saturday so we can actualize the experience of emotional stability. A short talk will close out any additional needed explanations at the end. All levels of healthy practitioners are welcome. If you have special injuries or needs you may also observe the practice. It can be just as powerful.
Ashram Schedule
6-7:30am Satsang: Silent meditation, chanting and lecture
8-9:30am Emotional Intelligence Workshop
10am Brunch
10:45am Karma Yoga
12-3pm Emotional Intelligence Workshop
4-6pm Open Yoga Class
6pm Dinner
8-9:30pm Satsang: Talks with Arun
Teacher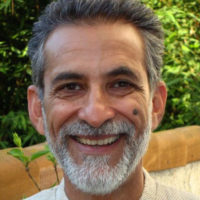 Arun Deva
Arun Deva, AP, AYT, C-IAYT, E-RYT500, is a certified senior āyurvedic practitioner, āyurvedic yoga therapist ,  IAYT certified yoga therapist and  YA certified teacher of vinyāsa krama yoga in the Kriśnamacārya tradition (E-RYT500) He has had the privilege of serving both the National and State Āyurvedic Associations Boards. Currently…
Learn more about Arun Deva