Navaratri Celebration
with Swami Vashistananda
September 29 - October 8, 2019
Nine Nights in Celebration of the Divine Mother
Come join in nine nights of worship to God in the form of the Divine Mother at one of the most inspirational times of the year.
The first three days are dedicated to Mother Durga, who removes negative tendencies and fears, opening the way for renewal.
The next three days honor Mother Lakshmi, who nourishes and gives love, virtue and prosperity.
During the final three days, we honor Goddess Saraswati.
After negativity is removed and virtue cultivated, the spiritual knowledge and wisdom represented by Goddess Saraswati can dawn. Spiritual knowledge will set you free.
Each night for these nine nights there will be puja (traditional Vedic worship ritual) and we will read and chant nightly from the Devi Mahatmyam, the scripture describing the story and feats of the divine mother.
A final puja on the morning of the tenth day represents the victory of the Goddess over the asuras (demons or negative qualities). We welcome donations, flowers and prasad. (sweet foods)
Puja Schedule
Puja #1 – TUES., OCT 9 DURGA 8PM
Puja #2 – WED., OCT. 10 LAKSHMI 8PM
Puja #3 – THUR., OCT. 11 SARASWATHI 8PM
Puja #4 – FRI., OCT. 12 DURGA 8PM
Puja #5 – SAT., OCT. 13 LAKSHMI 6PM
Puja #6 – SUN., OCT. 14 SARASWATHI 8PM
Puja #7 – MON, OCT. 15 Saraswati 6PM
Puja #8 – TUES., OCT. 16 Lakshmi 6PM
Puja #9 – WED., OCT. 17 Durga 6PM
Puja #10 – THUR., OCT. 18 VIJAYADASHAMI 6AM
Teacher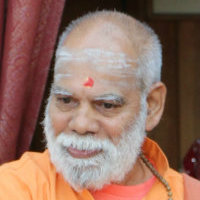 Swami Vashistananda
Swami Vashistananda comes from the Namboodri lineage in Southern India, Kerala and was the personal priest of Swami Vishnudevananda. Swamiji has been a long-time teacher of bhakti and vedanta in the Sivananda organization ever since. He has been at the…
Learn more about Swami Vashistananda