Yoga for Aging Gracefully
with Radha (Debbie Desrochers)
February 24 - March 1, 2019
Description
Explore the ancient, effective, and accessible teachings of Yoga to enjoy our senior years with more energy, self-awareness, and good health. Age gracefully with the guidance of the Classical Sivananda Yoga teachings.
Learn classical Yoga techniques to cultivate a nourishing and healthy lifestyle based on the teachings of Swami Vishnudevananda's 5 Points of Yoga: Proper Exercise (asana); Proper Breathing (pranayama); Proper Relaxation (Savasana); Proper Diet (vegetarian diet); Positive Thinking and Meditation techniques.
This course is applicable for all people 50+ years young and for all fitness levels. Modifications will be presented for those with limited mobility.
Topics Covered
Introduction and Practice of the 5 Points and 4 Paths of Yoga
Emphasis is placed on topics for seniors such as:
– Adapting the asanas to individual needs
– Changes in the physical body as we age and staying physically fit (including balance issues, cardiovascular, brain, and nervous system health)
– Techniques to understand and work with non-supporting emotions (fear, depression, anxiety, …)
– Stress management – Relaxation techniques
– Finding meaning in life after retirement and reconnecting with our True Self
– Learning to shift our focus inwards and practice self-reflection
– Vegetarian Diet and Ayurveda daily practices for our senior years
– Gracefully moving through and understanding the meaning of our "Vanaprastha" stage of life, i.e., ages 50+
– Dealing with issues of Mortality/Immortality from a Yoga perspective
Daily Schedule
6-8am Satsang: Silent meditation, chanting and lecture
8-10am Beginners Yoga Class
10am Brunch
11am Karma Yoga
1-3pm Workshop
3-4pm Free Time and Nature walks
4-6pm Open Yoga Class
6pm Dinner
7-8pm Free Time
8-10pm Satsang: meditation, chanting and lecture
Pre-requisite
There are no prerequisites other than a sincere desire to learn classical yoga.
Teacher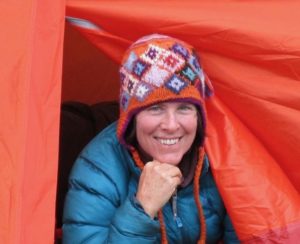 Radha (Debbie Desrochers)
Radha (Debbie Desrochers) has been coming to the Yoga Farm since the late 90's. After retiring from a profession of teaching engineering and mathematics, she now teaches yoga, meditation, positive thinking, and stress management and holds spiritual gatherings at her…
Learn more about Radha (Debbie Desrochers)