Krishna Bhakti
with Atmarama dasa
June 28 - 30, 2019
Experience beautiful devotional singing and jubilant Kirtan with Atmarama dasa in his upcoming performance.  Prepare to be uplifted and deeply moved during an evening of music made to praise and glorify God, Lord Krishna.  Revel in the bliss and pure ecstacy that his music arouses in the hearts of all.  Feel the powerful vibration of mantra and the transcendental joy it brings about from within.
Schedule
Concerts – Friday & Saturday at 7:30 pm ($15 each)
Workshops – Saturday and Sunday from 1 – 3 pm ($15 each)
Guests are welcome to come for individual workshop/ concert or come for the entire length of the course.
Teacher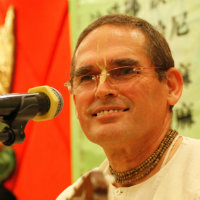 Atmarama dasa
Atmarama dasa is a devotional singer, sacred music composer and expert musician; who has become well known for his power to transmit devotion and spiritual energy. Since 1985 he has lived in Vrindavan, India (the holy place where Lord Krishna…
Learn more about Atmarama dasa