Accessible Yoga Teacher Training
with Jivana Heyman
September 5 - 8, 2019
Description
Note: Early bird price of $595 tuition available until August 1st and $650 after.
The Accessible Yoga Teacher Training program focuses on how to make the Yoga teachings available to everyone, regardless of their level of physical ability. We'll explore the many ways that Yoga practice can be modified to suit students with disabilities, physical challenges, and seniors. This can range from teaching gentle Yoga classes, to teaching entire classes in a chair or in a bed. We'll discuss group classes as well as one-on-one sessions.
A large part of the program is dedicated to the study and teaching of Yoga philosophy, which includes how to prepare and present a public talk. Together, these skills help teachers gain a clear understanding of the Yoga teachings so that they can teach in almost any setting with confidence and skill. The goal of the training is to support you in designing a specialty yoga program for a specific population of your choosing.
Curriculum
Yoga Anatomy and Physiology -Overview of common medical conditions such as diabetes, arthritis,   respiratory diseases, cancer, HIV/AIDS, and heart disease  -A review of some of the major impacts of aging on the physical body.
Yoga Psychology: How to empower people with disabilities by giving them a deep understanding of the Yoga teachings.
Pranayama and Meditation: How to make the subtle practices available for all students, regardless of ability.
Essential elements of a modified Yoga class, either on the floor, in a chair or in bed.
How to build a strong community among yoga students to support the individual, transformational process of Yoga
One-on-one classes – completing an intake process, designing and teaching a Yoga class for an individual student
Daily Schedule (Thursday – Sunday)
Day 1
9:00-10:00am – Introductions & Orientation
10:00-11:30am – Introduction to Accessible Yoga
11:30am-12:30pm – Integrated Accessible Yoga Chair/Mat Class
12:30-1:30pm – Lunch break
1:30-3:30pm – Hatha Theory
>Check-in & Posture Check
>Centering Practice
>Warmups (chair/wall/mat)
>Strengthening Practices (chair/wall/mat)
>Sun Salutations (chair)
3:45-5:00pm – Practice Teaching
Day 2
9:00-10:30am – Bed Yoga Practice Teaching
>Touching and Consent
10:30am-11:30pm – Hatha Theory
>Sun Salutations – at the wall & adapted on the mat
>Standing Poses (chair/wall/mat) – balancing poses & other standing poses
11:30-12:30pm – Making Meditation Accessible
>Understanding Yoga Meditation
12:30-1:30pm – Lunch break
1:30-2:30pm – Hatha Theory
>Backward Bends (chair/wall/mat)
>Forward Bends (chair/wall/mat)
2:45-3:45pm – Raja Yoga Review
>Understanding Basic Yoga Philosophy
>Keeping the Essence of Yoga in Accessible Yoga
3:45-5:00pm -Practice Teaching – 15 minutes each
>Sun Salutation (wall), standing poses integrated (one student stays in the chair), back bend, forward bend
Day 3
9:00-10:30am – Service & Support
>Guided Meditation on Yoga Service
>Personal AY Teacher Promise & Discussion
>Networking and Community Support
10:45-11:45am – Hatha Theory
>Inversions (chair/wall/mat)
>Twist (chair/wall/mat)
11:45am-12:30pm – Yoga Nidra, Savasana
>Kosha Model
12:30-1:30pm – Lunch break
1:30-3:00pm – Hatha Theory
>Other Pose/Questions
>Pranayama/Making Breaking Practices Accessible
3:15-4:15pm – Practice Teaching
>Round robin whole class practice – 15 minutes each
4:15-5:00pm – Sharing/Graduation Ceremony
Pre-requisite
There are no prerequisites other than a sincere desire to learn classical yoga.
Teacher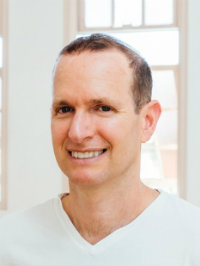 Jivana Heyman
Jivana Heyman, C-IAYT, eRYT500, is founder of Accessible Yoga, an international non-profit organization dedicated to increasing access to the yoga teachings. Accessible Yoga offers Conferences, Trainings, an Ambassador program dedicated to sharing yoga with every body. He is co-owner of…
Learn more about Jivana Heyman