Stress Relief and Relaxation Weekend Retreat
with Ananda Mayi
December 4 - 6, 2020
Description
Stress has been determined to be the #1 cause of all illness and disease. During this Stress Relief and Relaxation Weekend Retreat we will be working in alliance with the mind, body and breath, where one can learn to not only effectively reduce stress, but one can actually achieve a deep sense of peace and well-being. The course is based on the time-tested practice of yogic principles that are proven to be highly effective and easy to learn regardless of a person's experience in Yoga. Come join us for this special course to learn practical Yoga techniques to reduce stress and build stress resilience.
Curriculum
– Relaxation and stress management
– What is classical yoga? Intro to the tradition of lineage of the yoga masters
– What is the purpose and what are the methods of classical yoga?
– Basic philosophy about happiness, health, life, freedom
– Yogic techniques of breathing
– Vegetarianism-the how and why
– Positive thinking
– Basic technique of meditation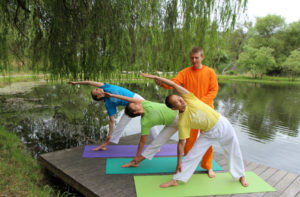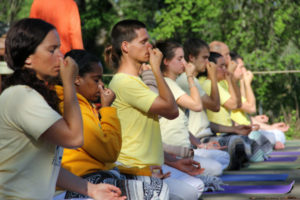 Daily Schedule
06:00 – 07:30 am – Satsang: Silent meditation, chanting and lecture
08:00 – 10:00 am – Yoga Class: Asanas and Pranayama
10:00 – 10:45 am – Vegetarian Brunch
11:00 – 12:00 pm – Karma Yoga (selfless service)
01:00 – 02:30 pm – Stress Relief Workshop
03:00 – 04:00 pm – Free Time and Nature walks
04:00 – 06:00 pm – Yoga Class: Asanas and Pranayama
06:00 – 06:45 pm – Vegetarian Dinner
08:00 – 09:30 pm – Satsang: meditation, chanting and lecture
Pre-requisite
There are no prerequisites other than a sincere desire to learn classical yoga.
Teacher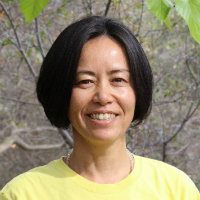 Ananda Mayi
Ananda Mayi is a full-time staff, hails from Japan, and took TTC at the Yoga Farm in 2014 and ATTC in 2015.  She is currently enrolled in the 800-hour Yoga Health Educator Course.  She enjoys teaching yoga to both advanced and beginners and especially loves kirtan chanting.  She…
Learn more about Ananda Mayi