Ayurvedic Detoxification Rejuvenation Retreat
with Jalpa Patel (Jagadamba)
July 15 - 20, 2020
Description
Detoxifying is an important part of the Ayurvedic seasonal routine. Disease prevention and wellness are the natural results of regular seasonal cleanses. Join us for a special cleansing mono-diet using khicharee and fresh greens, which is nutritious and at the same time gives a break to the digestive system.
The Ashram is the ideal place to detox, in a natural and secluded spiritual environment with like-minded people, where students experience the benefits of the supporting therapies offered in the retreat. The program's schedule includes daily gentle yoga practice, pranayama, relaxation, walks in nature, meditation, chanting, and most of all, rest and quiet.
Tuition price includes a daily 1-hour talk on Ayurveda and healthy lifestyle; one Ayurvedic consultation with a certified Ayurveda Practitioner; and one Ayurvedic Bliss therapy of 2 hours, which includes Abhyanga (warm oil massage), Sirodhara (steady stream of warm medicated oil to the third eye), and Swedhana (herbal steam treatment).  (The consultation and body therapy is valued up to $400).
Please speak to Mahadevika (530) 272-9322 in advance if you would like to book additional Ayurveda treatments during your stay.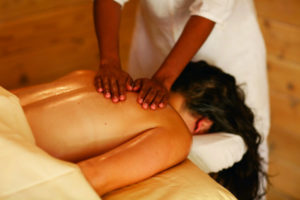 Daily Schedule
6:00-8:00am      Satsang: Guided silent meditation, chanting and lecture
8:00-10:00am    Gentle Yoga Class
10:00am              Brunch
11:00am              Karma Yoga
12:00-1:00pm   Ayurvedic Talk
1-4pm                  Ayurvedic consultations / body treatments / nature walks
4:00-6:00pm    Open Yoga Class
6:00pm               Dinner
7:00-8:00pm     Free Time
8:00-10:00pm   Satsang: Guided silent meditation, chanting and lecture
Prerequisites
No Prerequisites required other than a sincere desire to learn and cleanse.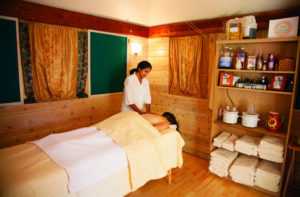 Testimonials
I love the Yoga Farm. So peaceful, nature, yoga, chants, meditation, vegan food, a healthy gateway. Perfect to inspire daily yoga at home. Om shanti.
– Saraswati
This retreat was such a gift. I feel so grateful for all of the wonderful people I met. The staff was so incredibly kind and I learned so much about myself. I am leaving with a lighter heart filled with more love and peace. Thank you from the bottom of my heart for this beautiful experience.
-Shannie
References
Teacher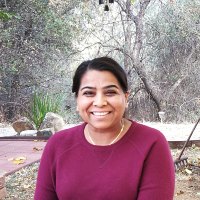 Jalpa Patel (Jagadamba)
Jalpa Patel ("Jagadamba") is a knowledgeable Ayurveda Practitioner who is passionate about integrating Ayurveda and Yoga for health and healing. She began her healthcare journey in early 2000, first as a Certified Nurses Assistant (CNA) caring for the elderly at a Senior Care Center in Fremont, CA. Later…
Learn more about Jalpa Patel (Jagadamba)