Hatha Yoga Sadhana – Intermediate Pranayama
with Swami Adi Parashaktiananda
August 16 - 23, 2020
Hatha Yoga as ladder to Raja Yoga
This Hatha Yoga Sadhana Course is a 7-day program that combines both group practice and individual self-practice divided into three sessions per day. The emphasis is on intense and prolonged pranayama. Students work towards three hours of pranayama per day.
Hatha Yoga Balances
Right Nostril and             Left Nostril
Left side of brain                            Right side of brain
Hot                                                     Cool
Sun                                                    Moon
Pingala Nadi                                    Ida Nadi
Catabolic                                           Anabolic
Efferent                                             Afferent
Acceleratory to organs of body    Inhibitory to the organs of body
Aggressive                                        Calming
Logical                                               Intuitive
Sequential                                        Simultaneous
Analytical                                         Holistic
Outer-directed                                 Inner-directed
Rational                                             Intuitive
Objective                                          Subjective
Masculine                                        Feminine
Siva                                                  Shakti
Yang                                                 Yin
Mathematical activities                Special activities
Verbal                                               Non-verbal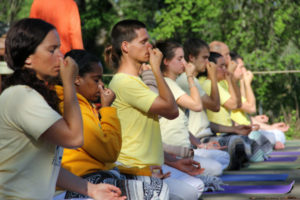 Raja Yoga
#1 Yamas – the restrictions
#2 Niyamas – the observances
#3 Asana – steady pose
#4 Pranayama
#5 Pratyahara
#6 Dharana
#7 Dhyana
#8 Samadhi
Pranayama
Pranayama can be performed before or after the session of asanas. For practical reasons, practicing before is better. In fact, pranayama can be performed more than one time throughout a day. In order to practice 15 to 20 minutes is all that is needed.
The 2 basic pranayamas are:
Kapalabhati – (shining skull – forceful breath)
It is said that this pranayama cleanses the lungs and awakens energy. Through this practice all of the old stale air in the lungs is exchanged for new fresh air. We normally practice 3 rounds of 60 – 80 pumping (quick exhalations) followed by breath retention from 45 seconds to 1 minute.
Anuloma Viloma – (alternate nostril breathing)
Anuloma Viloma or alternate nostril breathing is a practice to slow down and manipulate the air flowing in the nostrils. By controlling this air flow we actually start to control the subtle prana and you also control the mind.
In a practice session, we recommend 10 rounds starting on the left and ending on the left side. The count we follow is 4-16-8. Inhale for 4 seconds, retain for 16 seconds, exhale for 8 seconds.
Use the thumb and the ring finger on the right hand to hold the nostrils, and not the index finger. Keep the index finger and the middle finger turned in the palm of the right hand. The sitting posture should stay relaxed and comfortable.
During this practice we keep the breathing even and steady not too fast or too slow. By doing this we regulate the breath and the flow of prana or subtle energy. Additionally, you can focus at the point in between the eyebrows during the practice.
Rest and relax in Savasana for a few minutes after the pranayama session, enjoy the flow of energy.
Check out our Hatha Yoga Blog for more articles on Hatha Yoga
Daily Schedule
The daily schedule includes:
  6:00 Satsang
  8:00 Asanas and Pranayma session 1 (group practice)
  10:00 Brunch
  10:45 Karma Yoga
  12:00 Pranayama session 2 (personal practice)
  1:30 Workshop on Hatha Yoga Pradipika
  4:00 Asanas and Pranayama session 3 (personal Practice)
  6:00 Dinner
  7:00 Peace Chanting
  8:00 Satsang
Pranayama Daily Progression
Day 1 – 10 rounds @ 4-16-8 & 5 rounds @ 5-20-10
Day 2 – 10 rounds @ 4-16-8 & 10 rounds @ 5-20-10
Day 3 – 10 rounds @ 4-16-8 & 10 rounds @ 5-20-10 & 5 rounds @ 6-24-12
Day 4 – 10 rounds @ 4-16-8 & 10 rounds @ 5-20-10 & 10 rounds @ 6-24-12
Day 5 – 15 rounds @ 5-20-10 & 15 rounds @ 6-24-12 & 5 rounds @ 7-28-14
Day 6 – 10 rounds @ 5-20-10 & 10 rounds @ 6-24-12 & 10 rounds @ 7-28-14 & 5 rounds @ 8-32-16
Day 7 – 10 rounds @ 5-20-10 & 10 rounds @ 6-24-12 & 10 rounds @ 7-28-14 & 10 rounds @ 8-32-16
History
This course is helping students prepare for the full two week Sadhana Intensive course which was devised by Swami Vishnudevananda and is based on his own hatha yoga sadhana in the Himalayas.
He said that six months of this intensive practice gave him the energy to carry out his mission of spreading the teachings of yoga in the West for next 40 years.
Requirements
The course demands a high level of self-discipline and students are guided according to individual needs.
The course requires some preparation from the student. Interested students are advised to prepare by following a regular daily hatha yoga practice and a sattvic lifestyle. Sound physical and mental health is a pre-requisite.
Prerequisite
The Hatha Yoga Sadhana course is open to All, however good physical and mental health as well as a high degree of self-motivation are required.
Teacher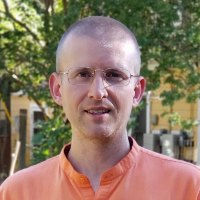 Swami Adi Parashaktiananda
Swami Adi Parashaktiananda is a dedicated Sadhak and Hatha Yoga practitioner and teacher, graduated from Sivananda Teachers Training Course in 2007 at the Sivananda Ashram Yoga Farm in Grass Valley, CA. He took the first monastic vow from Sivananda lineage in 2011 and has been traveling yearly to…
Learn more about Swami Adi Parashaktiananda