Practical Application of the Bhagavad Gita
with Swami Adi Parashaktiananda
December 6 - 11, 2020
Bhagavad Gita Study Course
Bhagavad Gita is the most read scripture in the world. In this single book, you will find the profound teaching on the different Yoga paths, the path of action (Karma Yoga), the path of devotion (Bhakti Yoga ), the path of Meditation (Raja Yoga) and the path of Self Knowledge (Jnana Yoga).  Take these few days to renew your outlook on your life by imbibing the teachings of this holy book.
Study of Scripture
It is said that one learns through scripture or through teachers. Learning through the study of scripture with a teacher is the best way to remove our doubts and clear our understanding. A proper understanding of our life will help us in making effective decisions for ourselves and in adjusting our inner attitudes. Knowledge leads to wise action.
Study of scripture is a must for all in order to live in the world and not of the world and stay peaceful in our hearts like the lotus, which grows out of mud and yet is most fragrant. In the form of a dialogue between Sri Krishna and Arjuna, we are exposed to the main dilemmas of our own life and how to find the way to Peace and Enlightenment in our daily struggle of life.
Daily Schedule
6-8am Satsang: Guided silent meditation practice, chanting and lecture
8-10am Yoga Class
10am Brunch
11am Karma Yoga
1-3pm Bhagavad Gita Workshop
3-4pm Free Time and Nature walks
4-6pm Yoga Class
6pm Dinner
7-8pm Free Time
8-10pm Satsang: meditation, chanting and lecture
Teacher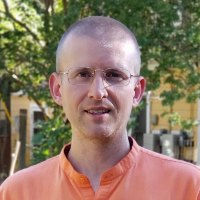 Swami Adi Parashaktiananda
Swami Adi Parashaktiananda is a dedicated Sadhak and Hatha Yoga practitioner and teacher, graduated from Sivananda Teachers Training Course in 2007 at the Sivananda Ashram Yoga Farm in Grass Valley, CA. He took the first monastic vow from Sivananda lineage in 2011 and has been traveling yearly to…
Learn more about Swami Adi Parashaktiananda