Yoga Holistic Health Retreat – Yoga for Stress Management
December 13 - 18, 2020
Course Description
It is said that 75 to 90% of all doctor visits are stress-related. Regular Yoga practice helps to reduce stress and anxiety that aggravate physical, mental/ emotional and spiritual states of health caused by stress.
The Yoga and Stress Management course introduces practical Yoga techniques and concepts to guide participants on how to establish regular Yogic lifestyle routines to reduce stress and anxiety.
Teaching is focused on the physical, mental/emotional and spiritual benefits of a Yogic lifestyle to reduce stress and anxiety, and further addresses the deeper questions in our search for true peace and happiness.
Gain practical understanding of the body-mind relationship through the application of specific Hatha Yoga and Raja Yoga techniques; learn how to recognize the mind's karmic tendencies and negative behaviors; and how to apply Yoga practices and techniques to reduce stress, anxiety and negative emotions.
In addressing spiritual stress, you will be introduced to the nature of the Self through Vedantic meditation practices to gain fresh perspective on stressful situations; and learn the panchamaya kosha model and its application in holistic assessment.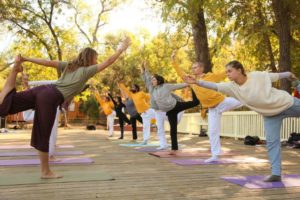 Schedule
6-8am Satsang: Silent meditation, chanting and lecture
8-10am Yoga Asana Class
10am Brunch
11am Karma Yoga
1-3pm Yoga and Stress Management
4-6pm Open Yoga Class
6pm Dinner
7-8pm Free Time
8-10pm Satsang: meditation, chanting and lecture