Marma Therapy: Ayurvedic Acupressure Training
with Dr. Anisha Durve
July 25 - 31, 2020
Learn one of Ayurveda's most powerful ancient tools for relaxation & rejuvenation!
Description
Ayurvedic acupressure effectively balances the nervous system, regulates the breath, calms the mind, and harmonizes emotions. Learn self-care rituals for daily rejuvenation as well as simple acupressure protocols for various body areas. For medical practitioners and healers from any background who want to facilitate deeper relaxation for clients this training is ideal. Workshop time includes theory, demonstrations, self-care protocols, hands-on supervised practice, experiential meditation, and Q&A time.
Daily Schedule
6:00 – 7:30 AM Satsang: Silent meditation, chanting and talk
8:00 – 9:00 AM Yoga Asana Class
9:00 – 10:00 AM Marma Therapy Training
10:00 – 10:45 AM Vegetarian Brunch
11:00 – 6:00 PM Marma Therapy Training
6:00 – 6:45 PM Vegetarian Dinner
8:00 – 9:30 PM Satsang: Silent meditation, chanting and talk
Training includes:
✴ History & development of marma therapy in ayurveda
✴ Ayurvedic, Yogic, & TCM anatomy
✴ Functions & classifications of points
✴ Amazing benefits of marma therapy
✴ Guidelines for practitioners & stimulation techniques
✴ Aromatherapy blends to balance the 3 doshas
✴ Using mantras & mudras & meditation to enhance therapy
✴ Addressing specific conditions
✴ Integration with other modalities: acupuncture, massage, PK, yoga
✴ How to become a marma marketing ambassador!
CEUs – 50 hours continuing ed credits approved by NCCAOM, NAMA, NCBTMB
Fees: $1200 early bird price by June 15 or $1300 after. Registration closes July 1.
Does not include Accommodations cost
Materials additional ~ $200: contact Anisha directly to receive an order form!
Testimonials
• Marma training with Anisha is a gentle and profound hands-on learning experience. She has taken the teachings from Dr. Lad and made them her own, adding her own quality of shakti, female intuitive wisdom. Anisha has a gentle wisdom about her. Her knowledge is vast and thoughtful. I highly recommend this training- a practical way to practice this mystical art! – Rima S., ayurvedic practitioner
• Perfect balance of different modes of learning- very tridoshic! – Christian D.M., ayurvedic practitioner
• This training was a wonderful way to learn a beautiful therapeutic technique in just 1 week. Even someone with minimal experience in ayurveda like myself can feel confident integrating this. I feel well trained, well prepared, and excited to offer this! – Jared K., reiki practitioner
• Remarkable week! It was truly a blessing to spend 7 days learning with Anisha. She has a gift to teach the complex wisdom of Ayurveda without ego and with grace. Her clear integration of subtle energies and pranic activity deepened the practice.- Hannah A.
• I feel amazing after this workshop- like I spent a day at the spa!- Hope H., restorative yoga teacher
• The continual focus and build of material in the workshop was masterful. Anisha presents a complex system so it is accessible to a beginner and also of value to acupuncturists, massage therapists, and yoga teachers. – C.L.
• The pace was super manageable and I never felt exhausted during the 7 days. -Susana B. acupuncturist
• I have never experienced a teacher with such presence! Anisha is an amazing teacher and so thorough. Her course is comprehensive, nourishing, and touching on all levels. -Norlen L.
Visit website for video testimonials from past attendees! Graduates include ayurvedic practitioners, massage therapists, acupuncturists, yoga teachers, MD's, nurses, midwives, reiki practitioners, and moms!
www.MarmaTraining.com
Teacher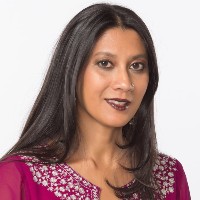 Dr. Anisha Durve
Anisha integrates the eastern healing wisdom of Acupuncture, Ayurveda, and Yoga into modern western healthcare.  Sheis a Doctor of Oriental Medicine, Ayurvedic Practitioner, Ayur-yoga teacher, and meditation instructor with 16+ years of clinical experience and advanced training in both India and China.  Her special focus is on client…
Learn more about Dr. Anisha Durve