Online Yoga 1: Beginners Week for Health and Healing
with Bharati
July 12 - 16, 2021
Description
This course gives you the full yogic experience following the 5 Points of Yoga , progressively introducing yoga asanas, breathing exercises, relaxation, diet, meditation, mantra chanting and yoga philosophy. A great foundation for your home Yoga practice!
Curriculum
– Step by step guide to the basic 12 postures, explanation of benefits of the postures
– What is classical yoga? Intro to the tradition of lineage of the yoga masters
– What is the purpose and what are the methods of classical yoga?
– How to create a strong Yoga practice at home
– Basic philosophy about happiness, health, life, freedom
– Difference between yoga asana and physical exercises
– Yogic techniques of breathing
– Vegetarianism-the how and why
– Relaxation and stress management
– Positive thinking
– Basic technique of meditation
– The yogic daily routine
Schedule
All times are pacific time-zone
Classes meet Monday- Friday
@ 8 – 10 am (Beginner Yoga Class) & 1 – 2:30 pm (beginners workshop)
We will meet on Sunday at 7pm PDT for an orientation to the course
Pre-requisite
There are no prerequisites other than a sincere desire to learn classical yoga.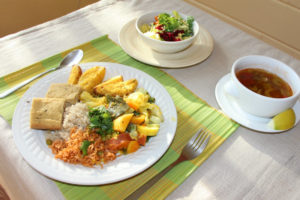 Testimonials
I want to thank you all for this amazing experience. I feel truly blessed to have spent the week here immersed into your way of living. The love and authenticity I've seen and felt here has been uncanny. You all have truly opened my eye in ways that is hard to describe with words. – Hollie, 2018
This place is a magical getaway from the stress of everyday life. I don't have a lot experience with yoga besides the occasional class at my local 24 hour fitness so this proved to be a very immersive experience.  There's a lot of focus on proper breathing, meditation as well as basic yoga.  The class leads were extremely helpful, funny and answered any questions that we had.  – Oleg, 2016
Teacher
Bharati
Bharati is a gentle and sincere Yoga teacher and full-time staff member of the Ashram. She is dedicated to Swamiji's mission to bring health and well-being to all, sharing the Yoga teachings with an open heart and nurturing presence.
Learn more about Bharati