Yoga of Relationships
with Tara Durga Devi
July 11 - 16, 2021
Description
Why do we need to practice the Yoga of Relationships?  In all our relationships, we aspire to be loved and to love all the time and 100% but we fail to feel the 100% all the time. We suffer from needs unmet, separation, losses, anxiety, disappointments, inner and outer conflicts, difficulty in communications, lack of empathy and compassion, resentments and anger, attraction– repulsion, emotional swings and also suffer from the paradox of wanting to lose oneself in love and yet wanting to be in control. The problem is between Self and Others and how to find ourselves through relationships?
In this course we will address the question of how to be with ourselves and be happy no matter the outside interpersonal conditions and collective conditions (social distancing, be in isolation or working with groups, living with families and community, in intimate relationship, being alone or in search of close relationships). We will discuss strategies how to transform our negative emotional patterns into selfless love through the practice of Yoga applied in daily life. We will also discuss the Yogic way of how to uplift and spiritualize our relationships.
Daily Schedule
6am      Satsang (meditation, chanting Yoga talk)
8am      Yoga Asana Class
10am    Brunch
11am     Karma Yoga
1-3pm   Yoga of Relationships Workshop
4pm      Yoga Asana Class
6pm      Dinner
730pm Satsang (meditation, chanting, Yoga talk)
Pre-requisite
There are no prerequisites other than a sincere desire to learn.
Recommended Text
Practice of Bhakti Yoga by Swami Sivananda
Teacher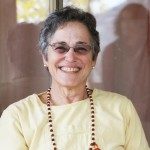 Tara Durga Devi
Tara Durga Devi has been teaching yoga and meditation for 32 years and was co-founder and owner of The Yoga Center, an affiliated Sivananda Yoga center in Stockton, CA. She has been trained in Yoga Therapy and is a graduate of the Sivananda Yoga Teachers Training Course (TTC)…
Learn more about Tara Durga Devi