Online Satsangs with Swami Sitaramananda
with Swami Sitaramananda
Open Dates
Swami Sitaramananda has offered regular Online Satsangs for the past 2 years.
Starting in May 2022 – the satsangs will be held on Thursday at 6 am PT.
You can join directly with the zoom link here.
If you would like to – you can register on this page and make a donation.
For access to previous satsang talks, some are listed here and for more you can visit our Swami Sita archive page.
Recordings
June 3rd 2021 – Destiny vs Self-effort – recording
June 10th 2021 – recording
June 17th 2021 – Love – recording
June 20th 2021 – Vedantic Meditation – recording
Teacher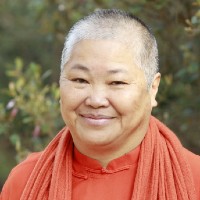 Swami Sitaramananda
Swami Sitaramananda is a senior acharya of the International Sivananda Yoga Vedanta Centers and is director of the Sivananda Ashram Vedanta Yoga Farm, California and the Sivananda Yoga Resort and Training Center, Vietnam.  She is acharya of China, Taiwan, and Japan as well. Swamiji is the organizer and teacher of the Sivananda Yoga Health Educator Training…
Learn more about Swami Sitaramananda