Online Swami Sivananda Mahasamadhi Day
with Swami Vashistananda
July 14, 2021
On this day, we celebrate the Mahasamadhi of Sri HH Swami Sivananda Saraswati of Rishikesh, India.
We will hold Akhanda Kirtan (3 hours continuous chanting) in the Brahma Vidya Yoga Hall of His name, show a video of His life and celebrate with a Guru puja (ceremony) in the evening at 8pm.
Prasad (sweet foods for offering) and donations are welcome.
Teacher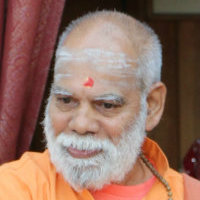 Swami Vashistananda
Swami Vashistananda comes from the Namboodri lineage in Southern India, Kerala and has been a long-time teacher of bhakti and vedanta in the Sivananda organization ever since. He has been at the Yoga farm since October 2014 and does ceremonies at all the ashram temples and shrines.  Swamiji…
Learn more about Swami Vashistananda