Online Lalita Sahasranama – 1008 Names of the Divine Mother
with Pundit Samavedula
January 5, 2022 - July 19, 2023
Description
Pundit'ji will teach the Lalita Sahasranam, 1008 names of the Divine Mother.  This course takes a time commitment to practice and learn the mantras.  Pundit'ji is an expert and will teach you not only insights that will make this accessible to all, but also life enhancement techniques for Self Realization.
Schedule
Wednesdays @ 6:00-7:00 pm PDT
The course will meet once a week for about 32 weeks to complete the entire stotram.
Cost
$250 – $495 sliding scale
Recordings will be available for all classes.
Teacher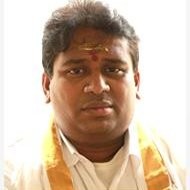 Pundit Samavedula
Pundit Samavedula is a 6th generation Sama Veda pandit who was trained in the Vedas beginning at age 7.  He attended the Shri Sarva Raya Veda Patha Shala school in South India, and after 12 years of study, received his Master's Degree in Vedic Studies (Ganapati Pandit).  Panditji…
Learn more about Pundit Samavedula