Onsite Permaculture & Vedic Wisdom: Ayurvedic Agriculture Practicum
with Spencer Nielsen
September 30 - October 3, 2021
Description
This course will be focused on hands-on applications of content taught in our online class.  We will spend time each day working in the garden, building soil, catching water, designing ecosystems.  We will also integrate foundations of Ayurvedic cooking and herbal medicine in the kitchen, as ways to bring the knowledge of life into our lives.  From prepping beds to harvesting vegetables, composting and sheet mulching, sowing seeds and harvesting seeds, this workshop will be an overview of seasonal skills in the fall garden.  This is a great introduction to the practice of permaculture and the Ayurvedic approach to food and medicine cultivation.  The winter and spring will have more opportunities for working with trees, and garden design in workshops (Ayurvedic Agroforestry in February) and our Permaculture Design Course (in Spring).
Earth – Soil science and soil care (composting, compost tea, ferments, worm composting, mulch, and more)
Water – Water harvesting (rain catch, rain gardens, swales, greywater)
Fire – Agroforestry (food forests, guilds, tree selection, pruning & grafting, medicinals)
Air – Site analysis (zone/sector analysis, site assessment, base mapping)
Space – Permaculture design principles, process, and methodologies)
There will be an Online permaculture course with 3 classes in September to help prepare for this onsite meeting.
Schedule
All times are pacific time-zone
6am    Satsang: Guided silent meditation, chanting and lecture
8am    Permaculture Workshop
10am   Vegetarian Brunch
11am    Karma Yoga
12pm   Permaculture Workshop
4pm    Yoga Class
6pm   Vegetarian Dinner
7:30pm   Satsang
Tuition
$150 + accommodations
Pre-requisite
There are no prerequisites other than a sincere desire to learn permaculture.
ARRIVAL & DEPARTURE
Arrival: Check-in time is 2:00pm. We encourage you to arrive by 4:00pm for the Asana class. Dinner is at 6:00pm and there will be a Welcoming Orientation at 7:00pm followed by Satsang at 8:00pm.
Departure: Check-out time is 12:00pm. You are welcome to stay in the ashram for the rest of the afternoon even after checking out of your room.
COURSE MATERIAL
WHAT TO BRING
slip on shoes, loose comfortable clothing, writing materials, meditation shawl or blanket, yoga mat, sitting cushion, water bottle, and, flashlight. All books and materials are available to order from our online boutique. (we will not have yoga mat and cushions available so please bring your own)
COVID POLICY
Please review our Covid-19 Policies before registering.
REGISTRATION
Registration is required at least 3 day before the start of the program. We will arrange an online video call with all guests once you register to review our covid policy.
Teacher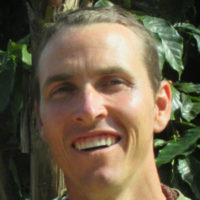 Spencer Nielsen
Spencer Nielsen is a guide to Nature inside and out, in the wild lands, gardens, and consciousness.  He is a permaculture designer and educator based in Fairfax, California.  He has studied Ecology, Environmental Education, and Eco-Social Design, as well as Permaculture, Yoga, Qigong, Ayurveda, Daoist medicine, and Planetary…
Learn more about Spencer Nielsen