Juice Fasting Retreat
with Swami Jnaneswariananda
January 3 - 9, 2022
Description
Join us to start the New Year in a healthy way, with 5 days of juicing to cleanse and balance the body and mind. Enjoy twice daily yoga classes, meditation, chanting, satsang and the guidance of experienced teachers as you restore body, mind and spirit. We will juice 3 times per day with fresh, organic vegetable and fruit juices in the beautiful open-air grounds of the Ashram, an ideal natural environment that safely supports purification. Daily work shops will discuss the process of juice fasting and the physical and spiritual impact of fasting. On the final day we will break the fast with light meals based on raw foods.
Schedule
DAY 1
2PM Arrival and Registration
3PM Orientation
4-6PM Asana & Pranayama Class
6-7PM Light raw meal
8-10PM Satsang (Meditation, Chanting & Lecture)
OTHER DAYS
6-8AM Satsang (Hot tea will be provided)
8-10AM Asana & Pranayama Class
10-11AM Juice
11-12 One hour of selfless service towards the ashram
1-2PM Workshop/Group talk
2-3PM Juice
4-6PM Asana & Pranayama Class
6-7PM Vegetable broth
8-10PM Satsang
FINAL DAY
6AM Satsang (Hot tea will be provided)
8-10AM Asana & Pranayama class
10-11AM Light raw meal
11-12 One hour of selfless service to the ashram
1-2PM Workshop/Group Talk
2-3 Light raw meal
3-4 Departure
Pre-requisite
There are no prerequisites other than a sincere desire to learn classical yoga.
ARRIVAL & DEPARTURE
Arrival: Check-in time is 2:00pm. We encourage you to arrive by 4:00pm for the Asana class. Dinner is at 6:00pm and there will be a Welcoming Orientation at 7:00pm followed by Satsang at 7:30pm.
Departure: Check-out time is 12:00pm. You are welcome to stay in the ashram for the rest of the afternoon even after checking out of your room.
COURSE MATERIAL
"Essentials of Yoga Practice & Philosophy" by Swami Sitaramananda
WHAT TO BRING
slip on shoes, loose comfortable clothing, writing materials, meditation shawl or blanket, yoga mat, sitting cushion, water bottle, and, flashlight. All books and materials are available to order from our online boutique. (we will not have yoga mat and cushions available so please bring your own)
COVID POLICY
Please review our Covid-19 Policies before registering.
REGISTRATION
Registration is required at least 3 day before the start of the program. We will arrange an online video call with all guests once you register to review our covid policy.
Teacher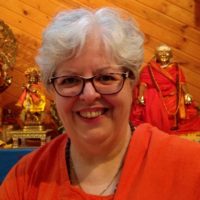 Swami Jnaneswariananda
Swami Jnaneswariananda joined the Sivananda Yoga Vedanta Centers in 1995 and has been director of centers and ashrams in Canada and Italy. She teaches Hatha Yoga, Meditation, Anatomy, and Vedanta at Teacher Training Courses in North America, Italy and India. Swami Jnaneswariananda took vows of Sannyas in 2001.…
Learn more about Swami Jnaneswariananda