Permaculture Design – Online Class Series (25 hours)
with Spencer Nielsen
January 12 - April 28, 2022
Course Format
This is an online class series totaling 10 Online Classes totaling 25 hours.
If you complete all the online classes you are then eligible to participate in the Onsite PDC (Permaculture Design Certification) training in April.
ONLINE: Wednesdays, 6-8:30pm
FOUNDATIONS OF PERMACULTURE & VEDIC SCIENCES
TBD: Intro to Permaculture, Site analysis, Vedic Sciences
TBD: Permaculture Design, Working with climate and microclimates, Vastu Shastra
SOIL & WATER CARE
Jan 12: Soil Science and Soil Care Strategies
Jan 26: Hydrology & Water harvesting Strategies
AYURVEDIC AGRICULTURE: Plants and Prana
Feb 2: Ayurveda & Agroforestry, Orcharding and tree care
Feb 16: Medicinal food and herbs
SOCIAL PERMACULTURE
Mar 9: Social Permaculture and Ecovillage Design
Mar 23: Economics and Land Access
APPROPRIATE TECHNOLOGY
April 6: Natural Building and Passive Solar Design
April 20: Renewable Energy
Recordings will be made available for all Online classes.  So if you register after the classes or have to miss a class you can catch up with the materials.
Course Content
Earth:
Soil Science & Soil Food Web
Fertility management including Composting, Compost tea
Earthworks
Natural Building
Agroforestry and agriculture
Ayurvedic herbalism – growing and using medicinals
Bio-remediation
Carbon sequestration
Land access
Water:
Rainwater harvesting
Grey water design
Irrigation basics
Storing water in the landscape
Aquaculture
Alternative currencies
Fire:
Renewable Energy
Appropriate Technology
Fire ecology
Ayurvedic diet and cooking
Animals in the landscape
Air:
Site Analysis & Self Analysis (Ayurvedic Doshas, constitution)
Reading the landscape
Climatic strategies (Ayurvedic concepts of Desha, land)
Creating and working with microclimates
Mapping and map reading
Ether:
History of Permaculture and it's roots in traditional cultures worldwide
Permaculture Ethics & Yoga Ethics: Yama & Niyama
Permaculture Principles
Design strategies and Ayurvedic elemental design
Social permaculture
Community organizing and governance
Urban permaculture
International applications & opportunities
Permaculture connection to Yoga, Ayurveda, Vastu, Jyotish (Vedic Astrology)
Teacher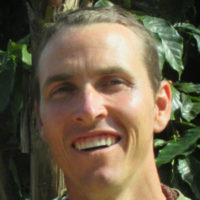 Spencer Nielsen
Spencer Nielsen is a guide to Nature inside and out, in the wild lands, gardens, and consciousness.  He is a permaculture designer and educator based in Fairfax, California.  He has studied Ecology, Environmental Education, and Eco-Social Design, as well as Permaculture, Yoga, Qigong, Ayurveda, Daoist medicine, and Planetary…
Learn more about Spencer Nielsen