Yoga and Holistic Health
with Swami Jnaneswariananda
August 25 - 28, 2022
Description
Stress has been determined to be the #1 cause of all illness and disease. During this Stress Relief and Relaxation Retreat you will learn to not only effectively reduce stress with Yoga practices, but how to achieve a deep sense of peace and well-being by integrating breath, body and mind. Learn and practice time-tested practice of yogic principles proven to be highly effective and easy to learn regardless of your experience in Yoga.
Topics covered…
The 5 Causes of Stress According to Yoga
What is Prana
12 Basic Asanas
Breathing Exercises
Conscious Relaxation Techniques
Daily Schedule
6:00 – 7:30am – Satsang: Silent meditation, chanting and lecture
8:00 – 9:45am – Yoga Class: Asanas and Pranayama (emphasis on stress relief/relaxation)
10am – Brunch
11am – Karma yoga
1:00 – 2:30 pm – Stress Relief Workshop
4:00 – 06:00 pm – Yoga Class: Asanas and Pranayama (optional)
6pm Dinner
7:30pm Satsang
Pre-requisite
There are no prerequisites other than a sincere desire to learn classical yoga.
ARRIVAL & DEPARTURE
Arrival: Check-in time is 2:00pm. We encourage you to arrive by 4:00pm for the Asana class. Dinner is at 6:00pm and there will be a Welcoming Orientation at 7:00pm followed by Satsang at 8:00pm.
Departure: Check-out time is 12:00pm. You are welcome to stay in the ashram for the rest of the afternoon even after checking out of your room.
COURSE MATERIAL
"Essentials of Yoga Practice & Philosophy" by Swami Sitaramananda
WHAT TO BRING
slip on shoes, loose comfortable clothing, writing materials, meditation shawl or blanket, yoga mat, sitting cushion, water bottle, and, flashlight. All books and materials are available to order from our online boutique. (we will not have yoga mat and cushions available so please bring your own)
COVID POLICY
Please review our Covid-19 Policies before registering.
REGISTRATION
Registration is required at least 3 day before the start of the program. We will arrange an online video call with all guests once you register to review our covid policy.
Teacher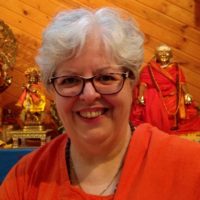 Swami Jnaneswariananda
Swami Jnaneswariananda joined the Sivananda Yoga Vedanta Centers in 1995 and has been director of centers and ashrams in Canada and Italy. She teaches Hatha Yoga, Meditation, Anatomy, and Vedanta at Teacher Training Courses in North America, Italy and India. Swami Jnaneswariananda took vows of Sannyas in 2001.…
Learn more about Swami Jnaneswariananda