Hatha Yoga Sadhana
with Swami Adi Parashaktiananda
December 6 - 11, 2022
Description
This course gives you an introduction to the real classical practice of hatha yoga as described in the scriptures. Hatha Yoga is seen as a ladder to Raja Yoga which culminates in the practice of Meditation. For most people Meditation is not possible so hatha yoga is prescribed so by controlling the breath we can control the prana which leads to control of the mind and the thoughts.
Schedule
8am – Asana & Pranayama class led by Swami Adi
12pm – Personal practice of Pranayama
1pm – Workshop on Hatha Yoga Pradipika with Swami Adi
4pm – Personal practice of Asana & Pranayama (or follow morning recording)
We will increase the pranayama practice during the 7 days to 20-30 rounds of Anuloma viloma
Curriculum
– Hatha Yoga Pradipika
– What is classical yoga? Hatha Yoga leading to Raja Yoga
– What is the purpose and what are the methods of classical yoga?
– Basic philosophy about happiness, health, life, freedom
– Difference between yoga asana and physical exercises
– Yogic techniques of breathing
– Vegetarianism-the how and why
– Basic technique of meditation
– The yogic daily routine
– Kriya practice
Book
– Hatha Yoga Pradipika (commentary by Swami Vishnudevananda)
CEUs
Yoga Alliance CEUs available
Pre-requisite
There are no prerequisites other than a sincere desire to learn classical yoga.
ARRIVAL & DEPARTURE
Arrival: Check-in time is 2:00pm. We encourage you to arrive by 4:00pm for the Asana class. Dinner is at 6:00pm and there will be a Welcoming Orientation at 7:00pm followed by Satsang at 8:00pm.
Departure: Check-out time is 12:00pm. You are welcome to stay in the ashram for the rest of the afternoon even after checking out of your room.
COURSE MATERIAL
"Essentials of Yoga Practice & Philosophy" by Swami Sitaramananda
WHAT TO BRING
slip on shoes, loose comfortable clothing, writing materials, meditation shawl or blanket, yoga mat, sitting cushion, water bottle, and, flashlight. All books and materials are available to order from our online boutique. (we will not have yoga mat and cushions available so please bring your own)
COVID POLICY
Please review our Covid-19 Policies before registering.
REGISTRATION
Registration is required at least 3 day before the start of the program. We will arrange an online video call with all guests once you register to review our covid policy.
Teacher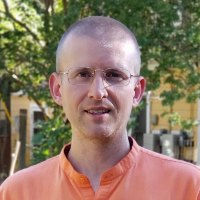 Swami Adi Parashaktiananda
Swami Adi Parashaktiananda is a dedicated Sadhak and Hatha Yoga practitioner and teacher, graduated from Sivananda Teachers Training Course in 2007 at the Sivananda Ashram Yoga Farm in Grass Valley, CA. He took the first monastic vow from Sivananda lineage in 2011 and has been traveling yearly to…
Learn more about Swami Adi Parashaktiananda