Bhagavad Gita in Daily Life
with Swami Jnaneswariananda
December 19 - 24, 2023
Description
Bhagavad Gita is the most read scripture in the world. In this single book you will find the profound teaching on the different Yoga paths, the path of action (Karma Yoga), the path of devotion (Bhakti Yoga ), the path of Meditation (Raja Yoga) and the path of Self Knowledge (Jnana Yoga).
Take these few days to renew your outlook on your life by imbibing the timeless teachings of this holy book.
Daily Schedule
6-8am Satsang: Silent meditation, chanting and lecture
8-10am Yoga Class
10am Brunch
11am Karma Yoga
1-3pm Workshop
3-4pm Free Time and Nature walks
4-6pm Open Yoga Class
6pm Dinner
7-8pm Free Time
8-10pm Satsang: meditation, chanting and lecture
Pre-requisite
There are no prerequisites other than a sincere desire to learn classical yoga.
Course Material
Bhagavad Gita with commentary by Swami Sivananda
Teacher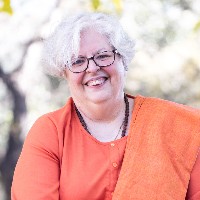 Swami Jnaneswariananda
Swami Jnaneswariananda joined the Sivananda Yoga Vedanta Centers in 1995 and has been director of centers and ashrams in Canada and Italy. She teaches Hatha Yoga, Meditation, Anatomy, and Vedanta at Teacher Training Courses in North America, Italy and India. Swami Jnaneswariananda took vows of Sannyas in 2001.…
Learn more about Swami Jnaneswariananda