Satsang in San Francisco
with Swami Dharmananda
February 26, 2023
Come join the San Francisco Sivananda Community for monthly Satsang as we gather together for guided meditation, kirtan chanting, and share the classical Yoga teachings.
The meaning of Satsang according to Swami Sivananda: "…the beginner will do well to take the opportunity that comes in his way to strengthen his own aspirations by communion with others who share them."
— Swami Sivananda, Bliss Divine
The spiritual energy of the group practice serves to remove negativities and impure thoughts from the mind, reinforcing Faith, Compassion and our relationship to Truth.
Satsangs are held monthly. Yoga classes are now offered weekly. Please check the Yogafarm.org website for upcoming dates.
Teacher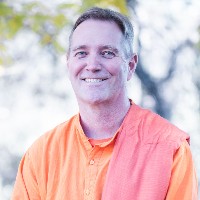 Swami Dharmananda
Swami Dharmananda is assistant director of the Yoga Farm and is in charge of the Karma Yoga program.  He is a faculty of the Sivananda Institute of Health (SIHY) and is one of the main teachers of Yoga Philosophy and Meditation at the Ashram. He took sannyas vows…
Learn more about Swami Dharmananda