Bhakti Yoga Course
with Swami Dharmananda
February 21 - 26, 2023
What is Bhakti Yoga?
Swami Sivananda says in Bliss Divine, "Bhakti is continuity of devotion. Bhakti is attraction of the Soul to the Lord, just as there is attraction of the needle to the magnet.
Bhakti is love for love's sake. There is neither selfish expectation nor fear. Bhakti is no emotionalism, but it is tuning the will and the intellect as well towards the Divine.
It is Supreme Love of God. Love is natural to everybody. Bhakti is the easiest approach to God."
Bhakti Yoga is the path of developing a personal relationship with the personal aspect of God and comprises of such practices as singing Kirtan, Puja, worshipping, prostrating, telling stories, and celebrating spiritual holy days.
The idea is to convert emotions into devotion, and to eventually realize Oneness with the Supreme through Pure, selfless Love.
Daily Schedule
6-7:30am Satsang: Silent meditation, chanting and lecture
8-10am Yoga Class
10am Brunch
11am Karma Yoga
1-3pm Bhakti Workshop
3-4pm Free Time and Nature walks
4-6pm Open Yoga Class
6pm Dinner
7:30-9pm Satsang: meditation, chanting and lecture
Pre-requisite
There are no prerequisites other than a sincere desire to learn classical yoga.
COURSE MATERIAL
"Essentials of Yoga Practice & Philosophy" by Swami Sitaramananda
Teacher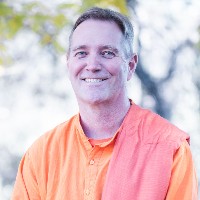 Swami Dharmananda
Swami Dharmananda is assistant director of the Yoga Farm and is in charge of the Karma Yoga program.  He is a faculty of the Sivananda Institute of Health (SIHY) and is one of the main teachers of Yoga Philosophy and Meditation at the Ashram. He took sannyas vows…
Learn more about Swami Dharmananda