Stress Relief and Relaxation Weekend Retreat
with Swami Hamsananda
February 3 - 5, 2023
Stress Relief and Relaxation Weekend Retreat
Stress has been determined to be the #1 cause of all illness and disease. During this Stress Relief and Relaxation Weekend Retreat we will be working in alliance with the mind, body and breath, where one can learn to not only effectively reduce stress, but one can actually achieve a deep sense of peace and well-being.
The course is based on the time-tested practice of yogic principles that are proven to be highly effective and easy to learn regardless of a person's experience in Yoga. Come join us for this special course to learn practical Yoga techniques to reduce stress and build stress resilience.
Daily Schedule
06:00 – 07:30 am – Satsang: Silent meditation, chanting and lecture
08:00 – 10:00 am – Yoga Class: Asanas and Pranayama
10:00 – 10:45 am – Vegetarian Brunch
11:00 – 12:00 pm – Karma Yoga (selfless service)
01:00 – 02:30 pm – Stress Relief Workshop
03:00 – 04:00 pm – Free Time and Nature walks
04:00 – 06:00 pm – Yoga Class: Asanas and Pranayama
06:00 – 06:45 pm – Vegetarian Dinner
08:00 – 09:30 pm – Satsang: meditation, chanting and lecture
Pre-requisite
There are no prerequisites other than a sincere desire to learn classical yoga.
ARRIVAL & DEPARTURE
Arrival: Check-in time is 2:00pm. We encourage you to arrive by 4:00pm for the Asana class. Dinner is at 6:00pm and there will be a Welcoming Orientation at 7:00pm followed by Satsang at 7:30pm.
Departure: Check-out time is 12:00pm. You are welcome to stay in the ashram for the rest of the afternoon even after checking out of your room.
COURSE MATERIAL
"Essentials of Yoga Practice & Philosophy" by Swami Sitaramananda
WHAT TO BRING
slip on shoes, loose comfortable clothing, writing materials, meditation shawl or blanket, yoga mat, sitting cushion, water bottle, and, flashlight. All books and materials are available to order from our online boutique. (we will not have yoga mat and cushions available so please bring your own)
COVID POLICY
Please review our Covid-19 Policies before registering.
REGISTRATION
Registration is required at least 3 day before the start of the program. We will arrange an online video call with all guests once you register to review our covid policy.
Teacher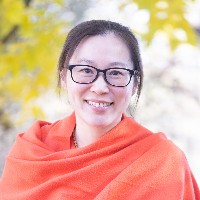 Swami Hamsananda
Swami Hamsananda is a senior staff teacher at the Yoga Farm, taking TTC in 2010 and Advanced TTC in 2014. Swami Hamsananda took Brahmacharya vows in 2014 and sannyas in 2022.  She graduated from the the Sivananda Yoga Health Educator Training in 2019 and is a Certified Yoga…
Learn more about Swami Hamsananda