Concentration & Meditation Week
with Swami Jnaneswariananda
July 25 - 30, 2023
Description
"Fear not. The mind is no doubt extremely turbulent. Through repeated attempts you can perfectly subdue it."   -Swami Sivananda
Anyone striving for success in life will find the one obstacle appearing time and again is the unsteady and fickle mind. This five-day course introduces the techniques harnessing the power of the mind to find true peace of mind. Learning techniques to improve concentration will reduce distractions for success in all endeavors in life.
The classical techniques of meditation will be discussed, but emphasis will be on meditation as a means to develop the tools of concentration is our daily life.  Participants will study the mechanics of the mind and how to calm the mind, how to remove discontentment and restlessness.  Daily practice yoga postures, yoga breathing Kirtan chanting sessions, and meditation will bring results quickly.
Curriculum
Mechanics of the mind, concentration, and meditation
Changing the habit of inattention to attention
How our lifestyles and environment affect the mind
Obstacles to concentration
How to keep up the practice
Daily Schedule
6-8am Satsang: Silent meditation, chanting and lecture
8-10am Beginners Yoga Class
10am Brunch
11am Karma Yoga
1-3pm  Workshop
3-4pm Free Time and Nature walks
4-6pm Open Yoga Class
6pm Dinner
7-8pm Free Time
8-10pm Satsang: meditation, chanting and lecture
Pre-requisite
There are no prerequisites other than a sincere desire to learn classical yoga.
Teacher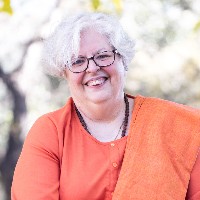 Swami Jnaneswariananda
Swami Jnaneswariananda joined the Sivananda Yoga Vedanta Centers in 1995 and has been director of centers and ashrams in Canada and Italy. She teaches Hatha Yoga, Meditation, Anatomy, and Vedanta at Teacher Training Courses in North America, Italy and India. Swami Jnaneswariananda took vows of Sannyas in 2001.…
Learn more about Swami Jnaneswariananda