Yoga for Transition and Crisis Management
with Swami Jnaneswariananda
August 6 - 11, 2023
Description
You are the architect of your own fate. You are the master of your own destiny. You can do and undo things. You sow an action and reap a tendency. You sow a tendency and reap a habit. You sow a habit and reap your character. You sow your character and reap your destiny. Therefore, destiny is your own creation. You can undo it if you like – destiny is a bundle of habits."
—Swami Sivananda
Times of transition and crisis may cause us to feel insecure or powerless in directing our lives. With a correct understanding of the cycle of action, consequence, and duty, we can navigate the difficult times in life and uncover the power we wield to steer our future. This 5-day course will examine the yogic concepts of action (karma) and duty (dharma) and introduce the discipline, tools, and knowledge needed to successfully handle times of transition and crisis, to overcome obstacles in daily life, and to fulfill our purpose in life.
Yoga for Transition and Crisis Management helps one to have a more balanced perspective on life, love, duty, work, and play.
Daily Schedule
6-8am Satsang: Silent meditation, chanting and lecture
8-10am Yoga Class
10am Brunch
11am Karma Yoga
1-3pm Workshop
3-4pm Free Time and Nature walks
4-6pm Open Yoga Class
6pm Dinner
7-8pm Free Time
8-10pm Satsang: meditation, chanting and lecture
Pre-requisite
There are no prerequisites other than a sincere desire to learn classical yoga.
Teacher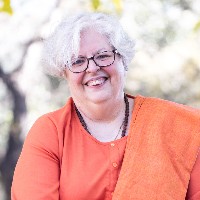 Swami Jnaneswariananda
Swami Jnaneswariananda joined the Sivananda Yoga Vedanta Centers in 1995 and has been director of centers and ashrams in Canada and Italy. She teaches Hatha Yoga, Meditation, Anatomy, and Vedanta at Teacher Training Courses in North America, Italy and India. Swami Jnaneswariananda took vows of Sannyas in 2001.…
Learn more about Swami Jnaneswariananda