Pancha Karma Detoxification Therapy
with Vaidya Bharathi A.V. BAMS, FAIHM, YIC
April 24 - May 2, 2024
Pancha Karma Detoxification Therapy
Receive Pancha Karma at the beautiful Yoga Farm in Grass Valley, California, an ideal place to relax, rejuvenate and detoxify.
Pancha Karma is Ayurveda's elegant and highly-specialized system of purification and rejuvenation. The Pancha Karma process gets to the root cause of imbalances and works to rebalance the body, mind and emotions. When these are in harmony, deep and profound healing can occur in all systems of the body.
The setting is unique in that it also includes the Ashram's daily schedule of meditation, kirtan, yoga asana and pranayama classes and spiritual and philosophical lectures.
Course Details
Your Pancha Karma experience begins well in advance of your trip to the Ashram. Meet Vd. Bharathi for a full Ayurvedic evaluation/consultation at her office in Seal Beach, CA or via online session. Based on your assessment, appropriate therapies will be planned.
It is recommended to start the preparatory phase of the cleanse 10–15 days prior to your visit to the ashram. The prescribed herbs for this phase will be mailed accordingly.
The therapies will be customized based on your prakriti and health needs.
Your 7-day stay at the Ashram includes a private cabin accommodation, daily yoga sessions, meditation, chanting, Ayurveda consultations, every day 2 hours of individualized oil therapies, herbs for cleansing, and nourishing food. There will also be a couple of Ayurveda workshops offered during your stay.
You are encouraged to take walks in nature and practice yoga and meditation daily. Read and relax. Leave your cell phones and gadgets behind.
Testimonials
"My stay at the Sivananda Ayurveda Pancha Karma was a profound healing experience. I enjoyed it thoroughly and would recommend it to anyone interested in greater health, energy, mental clarity, emotional healing and spiritual insight. The Sivananda Yoga Farm is a beautiful setting in nature with comfortable cabins, walking paths, a labyrinth, and the opportunity to attend twice-daily sessions of yoga and meditation. Ambika and the entire staff of Ayurvedic specialists who provide the daily consultations and treatments are superbly talented and knowledgeable about Ayurveda."
– Anandi
" I feel strong light and optimistic! It really is a brand new world again. The possibilities are infinite and boundless. The transformation of Panchakarma!!
– Denise Downing, Yoga Practioner, Paradise, CA.
"Panchakarma for me was a dramatic and life changeing experience. The world has opened up from a different angle. It is a big step to higher consciousness."
– Olga Claussen, Yoga Instructor, Stockton, CA
Teacher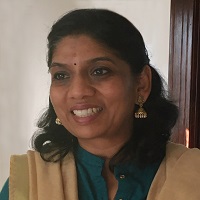 Vaidya Bharathi A.V. BAMS, FAIHM, YIC
Dr. Bharathi A.V., BAMS, FAIHM, YIC, is a passionate Ayurveda Practitioner, Speaker, and Educator with over 20 years of clinical experience. She believes in working together with her clients as a team in creating health and balance. She obtained her Bachelor's degree in Ayurveda (BAMS), from Bangalore University, India.…
Learn more about Vaidya Bharathi A.V. BAMS, FAIHM, YIC