Vedanta and Silence Course
with Swami Jnaneswariananda
December 1 - 10, 2023
Vedanta and Silence Course
This Vedanta and Silence Course features vedantic meditation, the practice of group scriptural study, personal self-inquiry and the practice of outer and inner silence.
There will be personal coaching and guidance in the study of Viveka Chudamani, the "Crest Jewel of Discrimination" by Sankaracharya. Enter into the peaceful silence of the inner Self through the practice of external silence.
Come away with deeper self-knowledge and a sense of clarity and peace.
Course schedule
5:30 am               Wake up bell
6:00 am                Meditation alone at a chosen location
7:00-10:00 am     Swadhyaya, guided study of scripture, in a group with the teacher
10:00 am               Vegetarian brunch, sitting alone in Mouna (silence)
10:45 pm               Karma yoga, interactions as needed, still in Mouna
12:00-2:00 pm     Silent reflection, journal writing, study time
2:00-4:00 pm       Dialogue with the teacher, group dialogue
4:00 pm                 Asana/pranayama practice in silence
6:00 pm                 Vegetarian dinner, sitting alone in Mouna
7:00-8:00 pm       Mantra chanting/writing in a group, spoken chanting allowed, but no conversation
8:00-10:00 pm     Meditation in a group or alone, study on assigned reading, summary writing…no sleep allowed before
Pre-requisite
Prior experience is recommended however the main prerequisites is a sincere desire to learn.
COURSE MATERIAL
"Viveka Chudamani" Crest Jewel of Discrimination
WHAT TO BRING
slip on shoes, loose comfortable clothing, writing materials, meditation shawl or blanket, yoga mat, sitting cushion, water bottle, and, flashlight. All books and materials are available to order from our online boutique. (we will not have yoga mat and cushions available so please bring your own)
Teacher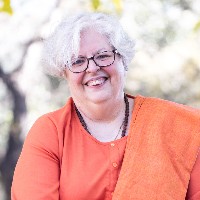 Swami Jnaneswariananda
Swami Jnaneswariananda joined the Sivananda Yoga Vedanta Centers in 1995 and has been director of centers and ashrams in Canada and Italy. She teaches Hatha Yoga, Meditation, Anatomy, and Vedanta at Teacher Training Courses in North America, Italy and India. Swami Jnaneswariananda took vows of Sannyas in 2001.…
Learn more about Swami Jnaneswariananda