Vedanta for Beginners
with Swami Dharmananda
November 7 - 12, 2023
Description
This 5 days course will give you the basic knowledge of Vedanta, the Science of the True Self, so you can start your process of Self enquiry and avoid pitfalls in your life, self created by your own illusion. Learn to ask the right questions in your life to gain clarity and solve relationship problems and problems created by lack of self confidence and confusion about yourself and lack of awareness of others. Feel light, happiness and freedom by better Self Knowledge.
Daily Schedule
6-8am Satsang: Silent meditation, chanting and lecture
8-10am Beginners Yoga Class
10am Brunch
11am Karma Yoga
1-3pm Workshop
3-4pm Free Time and Nature walks
4-6pm Open Yoga Class
6pm Dinner
7-8pm Free Time
8-10pm Satsang: meditation, chanting and lecture
Pre-requisite
There are no prerequisites other than a sincere desire to learn classical yoga.
COURSE MATERIAL
Teacher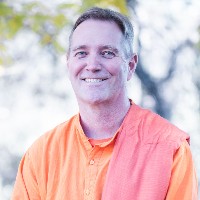 Swami Dharmananda
Swami Dharmananda is assistant director of the Yoga Farm and is in charge of the Karma Yoga program.  He is a faculty of the Sivananda Institute of Health (SIHY) and is one of the main teachers of Yoga Philosophy and Meditation at the Ashram. He took sannyas vows…
Learn more about Swami Dharmananda