Recharge your Battery with Asanas & Pranayama
with Swami Adi Parashaktiananda
November 17 - 22, 2023
Description
This week is ideal for those wanting a reset and recharge.  This week we will practice systematically the asanas and pranayamas and have workshops on how to absorb and store more prana.  Prana is like the battery of our physical body.  Just like the battery in car, when the battery is low, the car stops working.  In the same way, through modern lifestyle we have run out batteries down and need to recharge the battery in order to function fully, happily, and with inspiration.
Curriculum
– Step by step guide to the basic 12 postures, explanation of benefits of the postures
– What is classical yoga? Intro to the tradition of lineage of the yoga masters
– What is the purpose and what are the methods of classical yoga?
– Basic philosophy about happiness, health, life, freedom
– Difference between yoga asana and physical exercises
– Yogic techniques of breathing
– Vegetarianism-the how and why
– Relaxation and stress management
– Positive thinking
– Basic technique of meditationThe yogic daily routine
Daily Schedule
6-8am Satsang: Silent meditation, chanting and lecture
8-10am Beginners Yoga Class
10am Brunch
11am Karma Yoga
1-3pm Prana Workshop
3-4pm Free Time and Nature walks
4-6pm Open Yoga Class
6pm Dinner
7-8pm Free Time
8-10pm Satsang: meditation, chanting and lecture
Pre-requisite
There are no prerequisites other than a sincere desire to learn classical yoga.
COURSE MATERIAL
"Essentials of Yoga Practice & Philosophy" by Swami Sitaramananda
Teacher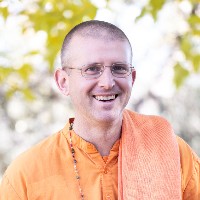 Swami Adi Parashaktiananda
Swami Adi Parashaktiananda is a dedicated Sadhak and an experienced international Sivananda Hatha Yoga teacher and trainer in international TTC in USA, Vietnam , Japan and China for more than twelve years. He mainly serves as assistant to Acharya Swami Sitaramananda at the Sivananda Ashram yoga Farm in…
Learn more about Swami Adi Parashaktiananda