Ashram Sacred Tour – Intro to Sivananda Yoga
November 12, 2023
Ashram Sacred Tour – Intro to Sivananda Yoga
This Sunday afternoon we offer a guided Ashram Sacred Tour walk, followed by an asana and pranayama class, an organic, vegetarian meal. You are also welcome to join us for satsang to have the experience of silent meditation, chanting, and a lecture.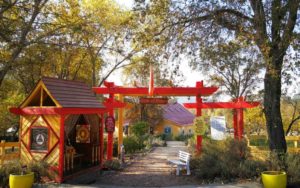 Schedule
2:00 – 2:30 pm – Arrival, welcome & registration
2:30 -3:45 pm – Ashram Sacred Tour
4:00 – 6:00 pm – Yoga Class and Relaxation
6:00 – 7:00 pm – Vegetarian Buffet Dinner
7:30 – 9 pm – Satsang – Guided silent meditation, chanting and lecture
The ashram, founded in 1971 by Swami Vishnu-Devananda in the Sierra foothills, is a non-profit organization run entirely by volunteers and yogis dedicated to promoting a healthy and disciplined lifestyle, which is conducive to high consciousness and individual and world peace. The ashram facility is an ideal location for all to come to learn this tradition.
"Simple living, high thinking." – Swami Vishnu-Devananda