Prana & the Mind
with Swami Adi Parashaktiananda
February 6 - 11, 2024
Description
During these 5 days we will focus on practices that increase our prana, conserve the prana, balance the prana, channel the prana, and purify the prana.  We will do practices from the 5 points and 4 paths including asanas, pranayama, relaxation, vegetarian diet, kirtan, meditation, karma yoga, study, and much more.
Curriculum
– Step by step guide to the basic 12 postures, explanation of benefits of the postures
– What is classical yoga? Intro to the tradition of lineage of the yoga masters
– Basic philosophy about happiness, health, life, freedom
– Yogic techniques of breathing
– Vegetarianism-the how and why
– Relaxation and stress management
– Positive thinking
– Basic technique of meditation
– The yogic daily routine
Daily Schedule
6-8am Satsang: Silent meditation, chanting and lecture
8-10am Beginners Yoga Class
10am Brunch
11am Karma Yoga
1-3pm Workshop
3-4pm Free Time and Nature walks
4-6pm Open Yoga Class
6pm Dinner
7-8pm Free Time
8-10pm Satsang: meditation, chanting and lecture
Pre-requisite
There are no prerequisites other than a sincere desire to learn classical yoga.
COURSE MATERIAL
"Essentials of Yoga Practice & Philosophy" by Swami Sitaramananda
Teacher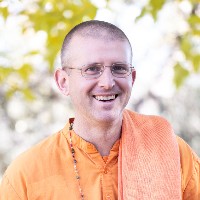 Swami Adi Parashaktiananda
Swami Adi Parashaktiananda is a dedicated Sadhak and an experienced international Sivananda Hatha Yoga teacher and trainer in international TTC in USA, Vietnam , Japan and China for more than twelve years. He mainly serves as assistant to Acharya Swami Sitaramananda at the Sivananda Ashram yoga Farm in…
Learn more about Swami Adi Parashaktiananda