Establishing Healthy Habits for the New Year
with Radha (Debbie Desrochers)
December 28 - 31, 2023
What is health? (Physical, Mental, Spiritual)
What are your health goals?
What habits can you create and adopt for health and peace of mind?
How can we integrate those habits into our lifestyle?
How can we establish those habits as a lifelong practice?
What stops us from sticking to good habits and reaching our goals?
This weekend course/retreat will give us the opportunity to explore these questions and more.  Teachings are based on the five points and four paths of yoga as well as Ayurveda* lifestyle practices that will be  adapted to each individual. Our daily habits, both mental and physical, and lifestyle choices affect our health, peace of mind, resiliency, sense of purpose and knowledge of our True Nature.
Get your year off to a good start! Come and join us for this weekend course of exploration, relaxation, and self-discovery.
*Ayurveda translates to "Knowledge of Life". It is the ancient sister science to yoga that focuses on health.
Daily Schedule
06:00 – 07:30 am – Satsang: Silent meditation, chanting and lecture
08:00 – 10:00 am – Yoga Class: Asanas and Pranayama
10:00 – 10:45 am – Vegetarian Brunch
11:00 – 12:00 pm – Karma Yoga (selfless service)
01:00 – 02:30 pm – Healthy Habits Workshop
03:00 – 04:00 pm – Free Time and Nature walks
04:00 – 06:00 pm – Yoga Class: Asanas and Pranayama
06:00 – 06:45 pm – Vegetarian Dinner
07:30 – 09:00 pm – Satsang: meditation, chanting and lecture
Pre-requisite
There are no prerequisites other than a sincere desire to learn classical yoga.
Teacher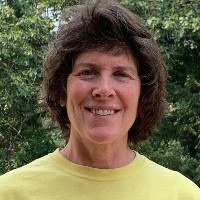 Radha (Debbie Desrochers)
Radha (Debbie Desrochers) has been coming to the Yoga Farm since the late 90's. After retiring from a profession of teaching engineering and mathematics, she now teaches yoga, meditation, positive thinking, and stress management and holds spiritual gatherings at her home in Mt. Shasta, CA and here at…
Learn more about Radha (Debbie Desrochers)