Art of Affirmations and the Power of Choice
with Tara Durga Devi
February 20 - 25, 2024
Description
During this week, you will learn the nature of your thoughts and how to change the thought tendencies from negative (causing you to suffer i.e.fears, anxiety, anger) to positive (bringing you to peace and power in your life).
There will be daily practices of yoga postures, breathing exercises, relaxation techniques that will help to change the energy of thoughts and give energy and rest to the nervous system, guided meditation and chanting to uplift the mind and open the heart.  There will also be daily workshops to help understand the mind and how to harness the energy of it.
Each participant will be empowered to create a positive affirmation that directly addresses an aspect of their life they would like to change and a vision board of how that change will look.
Daily Schedule
6-8am Satsang: Silent meditation, chanting and lecture
8-10am Yoga Class
10am Brunch
11am Karma Yoga
1-3pm Affirmations Workshop
3-4pm Free Time and Nature walks
4-6pm Yoga Class
6pm Dinner
7-8pm Free Time
8-10pm Satsang: meditation, chanting and lecuture
Pre-requisite
This course is open to anyone who has a sincere desire to be positive!
What to Bring
Recommended Texts (Available in our boutique)
Essentials of Yoga Practice and Philosophy
by Swami Sitaramananda
Positive Thinking manual
by Swami Sitaramananda
Thought Power
by Swami Sivananda
Yoga Life 7 CD
set by Swami Sitaramananda
Teacher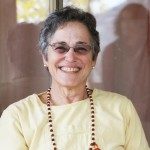 Tara Durga Devi
Tara Durga Devi has been teaching yoga and meditation for 40 years and was co-founder and owner of The Yoga Center, an affiliated Sivananda Yoga center in Stockton, CA. She has been trained in Yoga Therapy and is a graduate of the Sivananda Yoga Teachers Training Course (TTC)…
Learn more about Tara Durga Devi