Writings, Audio, Video, Webinars, and much more
Swami Sitaramananda is a senior acharya of the International Sivananda Yoga Vedanta Centers and is director of the Sivananda Yoga Farm, California and the Sivananda Yoga Resort and Training Center, Vietnam.  She is acharya of China, Taiwan, and Japan as well. Swamiji is the organizer and teacher of the Sivananda Yoga Health Educator Training program, an 800 hours program on yoga therapy, accredited by the International Association of Yoga Therapists.
Swami Sitaramananda is the author of Essentials of Yoga Practice and Philosophy (translated in Chinese, Japanese and Vietnamese) Positive Thinking Manual, Karma Yoga Manual, Meditation Manual, 108 Yoga Health Tips,Swamiji Said, a collection of teachings by Swami Vishnudevananda in His Own Words, as well as two poem books. She is responsible for the Vietnamese translation of The Completed Illustrated Book of Yoga by Swami Vishnudevananda. Some of her audio lectures on Yoga Life, articles, and webinar presentations can be found on the website.
Swamiji is an ardent supporter of the integration of the Vedic sciences such as vastu, jyotish, ayurveda, yoga and vedanta.
COST – Free or by donation | Pre-registration not Required
Satsangs Online with Swami Sitaramananda
Thursday mornings at 6:00 am PT.
Writings, Audio, Video, Webinars, and much more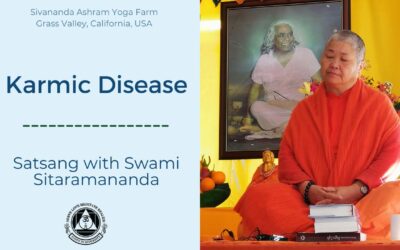 Today we have a very serious topic, the topic of Karmic Disease. So, you know, people have diseases and sometimes it's not explainable. We don't understand why they have the diseases. So, first you need to understand the meaning of the word karma. Karma means simply the universal law of cause and effect, action and reaction. The word Karma means action, and karma applies to physical action, but also to mental action. I mean, you don't do anything, but you think about it. And when you think about it, you create the mental karma, and the reason why we are born in this particular condition is because of our karma. So, there is no accident that we are born in a certain family in certain circumstances, a certain country and our life goes a certain way.
read more