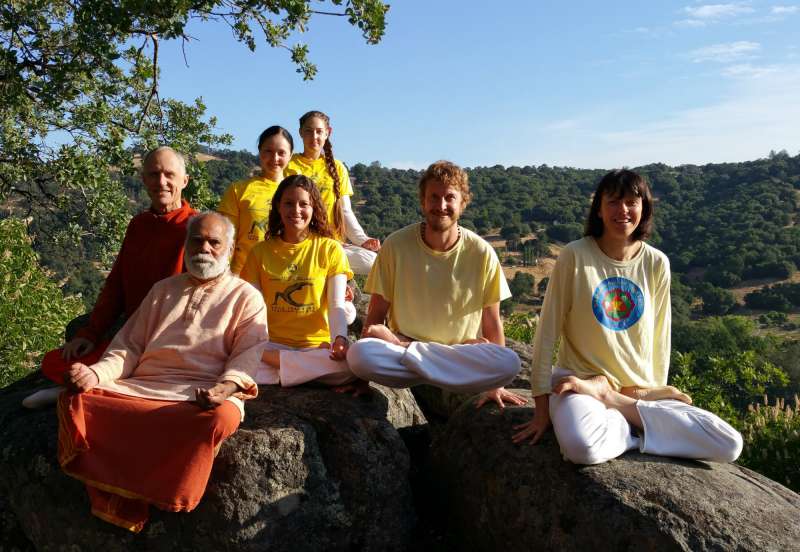 Guest Information Details
Open to guests year round, the Yoga Farm welcomes people from around the world and provides a peaceful setting in which to find a way back to a holistic lifestyle in harmony with nature.  Additionally, our guests testify to the effect of a sense of stress relief and moreover they feel an improved physical, emotional, and spiritual health. 
Please check our Program Calendar for upcoming programs
The Daily Schedule
06:00am    Satsang (Meditation, Chanting, Lecture, or Silent Walk)
08:00am    Asanas and Pranayama (All-Lervels Yoga Class)
10:00am   Organic Vegetarian Brunch
11:00am    Karma Yoga (Selfless Service)
04:00pm    Asanas and Pranayama (All-Lervels Yoga Class)
06:00pm    Organic Vegetarian Dinner
08:00pm    Satsang (Meditation, Kirtan chanting and Lecture)

To keep up the spiritual atmosphere of the Ashram, the participation in the morning and evening meditation and one Asana class daily are mandatory. Programs are subject to change or cancellation.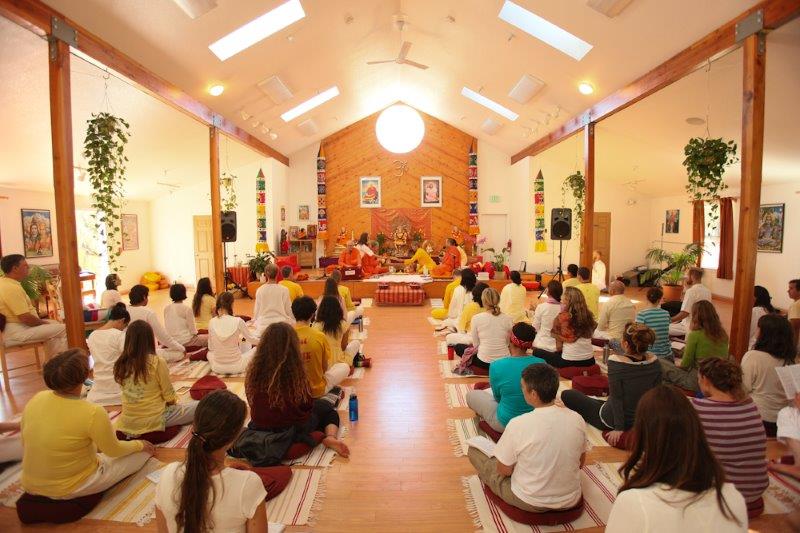 What to Expect in the Yoga Class
The Sivananda Yoga class at the ashram is a 2 hour group session with a teacher.  The class starts with initial relaxation and pranayama followed by a series of 12 basic postures which are designed by Swami Vishnudevananda.  An important feature is that the postures alternate with periods of relaxation with an accent on breathing.  In addition, the energizing sun salutations series in the beginning prepares the body for the postures and avoid injury.
Moreover, students are encouraged to focus inwards and get in touch with their body.  The teachers will periodically remind the class to follow the rhythm and to observe one's limitation and not force the practice.  Furthermore, the general philosophy of this system of teaching is promoting self awareness, gentleness, and balance between effort and relaxation.
Also, the students can rest as needed as it is important to respect the body limitations.  Moreover, when in the posture students are encouraged to breathe, focus, and relax.  Finally, the final relaxation is the cream of the practice where students spend 15-20 minutes in guided, deep relaxation.
In case you have any injuries or health conditions, please be sure to communicate to our yoga teachers prior to the beginning of class so that we can adjust and adapt the postures for you.
Meditation, Kirtan Chanting, and Lecture
Satsang is a group meditation followed by call and response devotional chanting and an informal talk on the practical philosophy of Yoga and Vedanta. Chant books are provided to help you to follow along and participate in the devotional chanting.  In essence the practice of chanting is universal and based on the power of sound and is not sectarian.
The purpose of satsang is to uplift one's mind in the company of spiritual seekers and find fresh inspiration by listening to teachers, special guests, and yogic scriptures. Also, the heartfelt, group kirtan chanting along with music uplifts the spirit and opens the heart. To sum up, satsang renews the inspiration and enthusiasm for yoga practice to enhance one's life.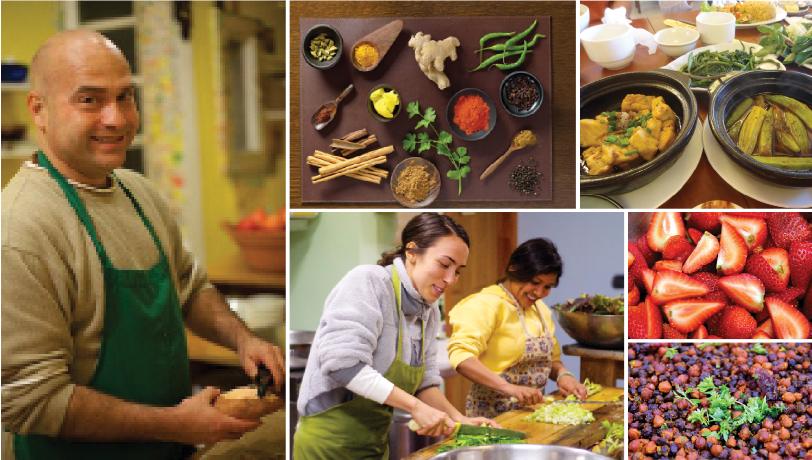 Organic Vegetarian Meals
Eating a plant-based diet has been conclusively shown to be good for health and well-being.  Furthermore, it is detoxifying and nutritive at the same time.  In addition, the meals are freshly prepared with love and care by dedicated karma yogis.  Also, the ashram uses mostly organic, locally produced fruits and vegetables.
The buffet meals offered are lacto-vegetarian. We also have a permaculture vegetable garden and grow some of our own food and flowers.
Please note that meat, fish, alcohol, tobacco, coffee, black tea, and eggs are not served in the ashram.
The meals are offered at 10:00 am and 6:00 pm with a small fruit snack served in the afternoon.  Additional snacks are available in the boutique if needed.
In case you have any special dietary restrictions please mention so on your application form and we will do our best to accommodate you.
Garden, Greenhouse and Permaculture
In the Ashram we are committed to sustainable and regenerative practices. We have had solar panels since 2007, which produces half of the Ashram's energy. We also have a large vegetable garden, greenhouse, and fruit orchards. 
Many crops have been produced i.e tomatoes, zucchini, kale, chard, broccoli, amaranth, asparagus, potatoes, marigold, rosemary and so much more. 
The property is laden with bountiful fruit and nut trees such as apple, plum, peach, jujube, walnut, fig, pomegranite, almond, persimmon, and mulberry.
We have a monthly Permaculture Service day to welcome volunteers who would like to work on the land.  With the help of students in our permaculture programs, we are working on small, slow permaculture projects such as converting our orchards into a food forest.
The Sivananda Ashram Yoga Farm is actively seeking people interested in yoga who have practical skills in permaculture, gardening and landscaping for the ashram's upkeep. If you are interested in volunteering with us, please fill out our Karma Yoga with Garden Focus application and specify your skills on the form.
Animals, Wildlife, and Nature
The property is nestled in a biodiverse Blue Oak Woodland. There are several meandering brooks and large heritage oak trees interspersed with grassland and shrubbery on rolling hills.  Hundreds of different species of flora and fauna can be spotted. 
Home to affectionate llamas, whimsical goats and elegant alpacas, the animal pen is a source of joy for adults and children alike. There are many deer that make their home at the ashram.  At dusk, they  walk around throughout the ashram and sometimes come up close to some of the buildings looking for greenery to eat. 
The ashram is on 80 acres and has multiple hiking paths. In order to respect the delicate balance of nature, please stay on the trails and do not approach or disturb wildlife. Please also be aware that there are thorny blackberry bushes and poison oak off of the trails. It is best to avoid walking in any tall grassy areas, as there may be rattlesnakes and ticks.
Lavender Fields
In the Spring of 2017, the Ashram planted over 2,000 lavender plants on about 2 acres of property. Lavender is a drought-tolerant plant that grows perfectly in the dry California climate.
In 2018 we started practicing no-till farming in the lavender fields. No-till agriculture protects topsoil, builds fertility, and prevents erosion.
 The lavender flowers have been used used to create herbal tea mixtures of mint, lavender and rosemary, which were sold seasonally in the Sivananda buotiques of the Ashram, Los Angeles and San Francisco centers. The abundant harvest of lavender flowers will be used to create essential oil.
The lavender fields are a beautiful addition to the property and offer a calming interaction for guests. The plants are highly medicinal and can be smelled for their aromatherapeutic benefits year around.  
Peace Miracle Labyrinth
The Peace Miracle Labyrinth offers a twenty-minute meditative walk. Together with awareness, take a breath, ask a question, step inside and walk the labyrinth to find your answer. Comparatively, unlike a maze, there is only one way in and one way out.  Interestingly, the labyrinth is a purposeful path of twists and turns, like a metaphor for life.  In truth, walking the labyrinth is a meditation practice and a body prayer.
As a matter of fact, the way we walk a labyrinth can offer insight into the way we walk through our lives.  Additionally, while walking, you can coordinate your breath with your steps as you release concerns and other burdens.  Equally important, is to contemplate peace on earth while repeating the mantra "Om Namo Narayanaya."  Finally, on the way out, you may repeat the peace mantra out loud, feeling the peaceful vibration generated being brought to the whole world.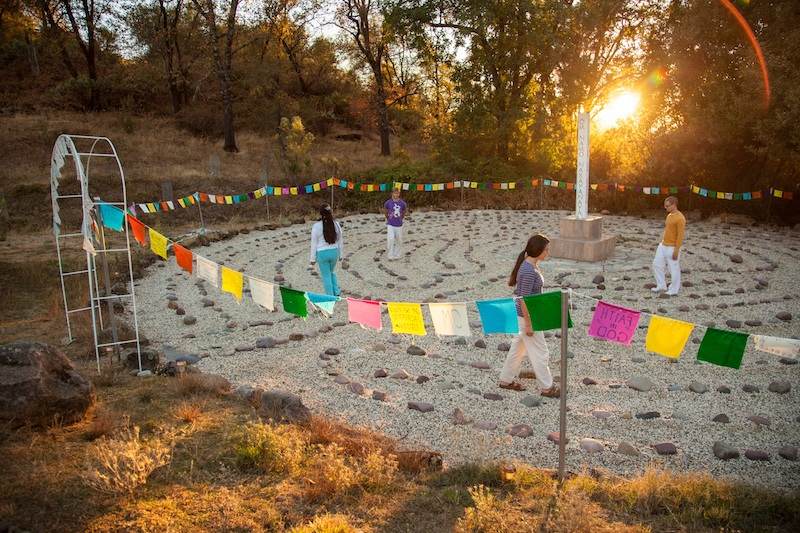 Vrindavan Pond
The most striking feature at the Yoga Farm is the Vrindavan Pond built by Swami Vishnudevananda.  In fact, the large pond lies at the center of the ashram at the bottom of long green grass field.   Furthermore, there are many fish, birds, turtles, and frogs that make use of the pond.  It is beautiful to watch the fountain and sit by the pond to contemplate and read a book or to meditate on the sound.
The pond is available for swimming as there is a gazebo and dock with ladder for entry.  Also, there is a boat for those not wanting to swim.  Additionally, during the summer months, the pond is a popular destination to get a quick cool down or to just sit next to under the weeping willow trees.
As a matter of fact, the pond is a favorite activity for children's yoga camp in the summer.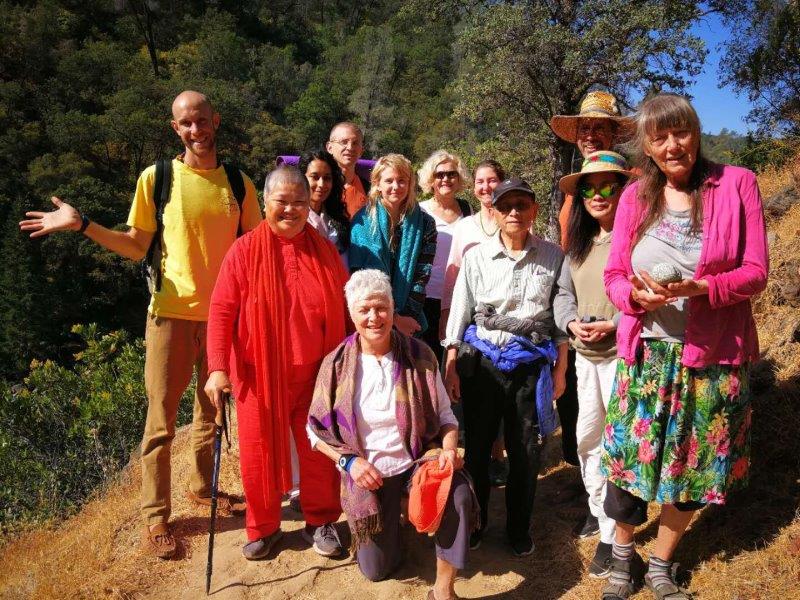 Surrounding Area
The Sivananda Ashram Yoga Farm is situated in the beautiful foothills of the Sierra Nevadas. It is only 45 minutes from Tahoe National Forest and 2 hours from Lake Tahoe. 
Grass Valley and Nevada City are both nearby historic mining towns with a variety of quaint shops, outdoor recreation, and attractions.
The Yuba River is a beautiful destination that is only 30 minutes from the Ashram. It is a pristine river that flows from the Sierra Nevada mountains. We take regular trips to the river for hiking, swimming and practicing yoga by the bank of the river.
Sivananda Yoga Farm Boutique
The ashram boutique is open daily, offering an extensive selection of books and CDs, clothing for yoga classes, yoga mats, meditation cushions and shawls, mala beads, altar kits, other yoga related items, gifts and spiritual paintings. Certain food supplements, notebooks and toiletries are also available. The Health Hut also offers natural snacks and drinks during courses.
Enjoy a diverse selection of health food goodies and yoga accessories, including yoga mats and bags, incense, malas (prayer beads), and decorative items for your home altar.  In fact, the boutique is a favorite hangout for all the students and guests.
Boutique Hours
10:45am – 11:.45am
6:45pm – 7:45pm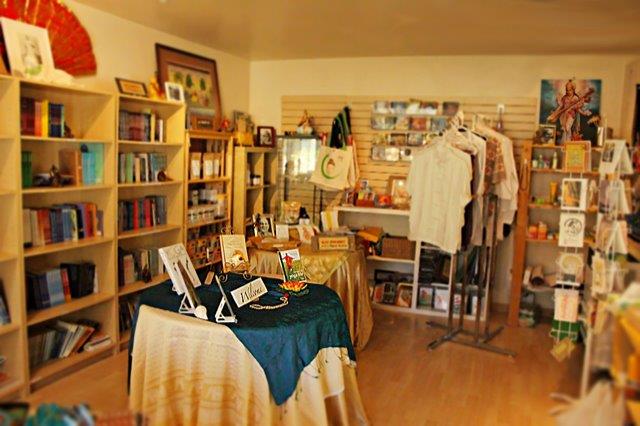 "We are part of a big family held together by love."
– Swami Vishnudevananda
What to Bring
Some important items for your stay:
Towel
Yoga mat
Meditation cushion
Meditation shawl or blanket
Japa mala (prayer) beads
Pen and notebook
Water bottle
Slip-on sandals or slippers (indoor-only)
Both comfortable and warm clothes which cover shoulders and knees
Rain gear
Walking shoes for relaxed nature walks
Personal toiletries
Ear plugs (the ashram is a shared environment)
Alarm clock
Flashlight
Travel mug or tumbler (for hot tea)
For tent space only: bring your own tent, bedding, and towels
The Well-Being Center
In our well-being center we offer therapies and massages by appointment year-round. Some Ayurveda therapies offered include: Abhyanga: four-hand, warm-herbal-oil, full-body massage Shirodhara: warm, herbal oil flow over the energy center between the eyebrows Swedhana: herb-infused, full-body steam treatment Marma Therapy: specialized massage technique for healing damaged tissue, detoxification and release of tension for enhancing proper energy flow
Library
The library is just behind the main Yoga Hall.  It has an assortment of books from many different spiritual writers.  It is open daily and is a nice spot in the ashram to relax, recharge, and inspire.  Please see our reception if you would like to borrow a book.
Drinking Water
Our pure drinking water comes from a well in the Ashram grounds.  Guests can refill water bottles from our sinks or from the water dispensers in each of the buildings.
Laundry
Coin-operated washing machines are available during daytime hours. We have clotheslines for drying. Laundry soap can be purchased in the boutique.
GETTING TO THE YOGA FARM
Directions
The Ashram is situated near highway 49 between Auburn and Grass Valley, just one hour from Sacramento and three hours (without traffic) from San Francisco and is easily accessible by car or by Amtrak (train and bus).
Allow Google Maps to navigate your trip by tapping the arrow below.
Sivananda Ashram Yoga Farm
14651 Ballantree Lane Grass Valley, CA 95949 +1 (530) 272-9322
Directions
By Air to San Francisco:
Public Transport – Take BART (Bay Area Rapid Transit) from SFO to Richmond station. BART is at SFO, is marked well, but you can also ask at information and they will easily guide you. Trains run every ten or fifteen minutes or so depending upon the time. This is about $7, purchase a ticket at the station. In Richmond exchange to Amtrak for ongoing travel to Auburn station. They are both in the same station, BART is upstairs and Amtrak down. Go to Amtrak.com to book, there you will see service that is mostly connecting. Part of your travel to Auburn will be train, some bus. Give yourself at least 60-90 minutes between arrival at SFO and departure from Richmond.
By Air to Sacramento airport:
Public Transit – We recommend that you take an Uber all the way to the ashram (about $60) or take the Amtrak.com bus service from Sacramento to Auburn.  (Amtrak fare is $16 ). PLEASE NOTE that Amtrak offers bus service from Sacramento to Auburn. Although the schedule is shown on the Amtrak website it is not possible to purchase tickets online for bus travel. For this you will need to arrive at the Sacramento Amtrak station with a few minutes early and purchase the ticket there.
Sivananda Ashram Yoga Farm
14651 Ballantree Lane Grass Valley, CA 95949 +1 (530) 272-9322
Directions
By Car:
From I-80 exit in Auburn and onto Hwy. 49 North towards Grass Valley.  Go 11 miles to Wolf Road (traffic signal light) and turn Left. (note that right side of the intersection is Combie Rd.) Go 1.8 miles and turn right onto Duggans Rd. Go 2 miles to the end of the road and turn left on Lime Kiln Rd. Go 2.4 miles – (the road becomes McCourtney Rd.) (continue straight). Continue 1.2 miles and turn left on Ballantree Lane.  (You will note an Adopt-a-Highway sign 1 mile ahead of the turn that the "Yoga Farm removes litter") Go 0.9 miles to the Sivananda Ashram Yoga Farm driveway and turn left (It is marked by a big sign.) Please drive 10 MPH ONLY on Ballantree Lane.
Helpful Reminders
The Yoga Farm is an ashram with a very special spiritual atmosphere practicing classical yoga. To be here is to share in the practice, honoring both our highest selves and that of others. In order to truly tap into all the rejuvenating effects, we encourage everyone to attend both Satsangs and yoga classes daily.
We also ask that silence is observed from 10:30 pm to 6:00 am so that all can have a restful sleep and a peaceful mind before morning Satsang. The more you can tune in and really soak in the natural peace of our environment and community, the better your body and mind will feel overall. You can begin by detaching from your cell phone, especially during Satsang.
If using it as a recording device during the spiritual lecture (as it is a nice way to deepen your learning), please ensure that you have put it into silent/airplane mode and turned off all alarms and noise making apps before leaving your room. Inner peace is an amazing gift to share. Remember the practice.
Ashram Etiquette
As the ashram is a spiritual community and place of spiritual practice, we ask that all guests and visitors be respectful and modest. Guests are invited to dress in loose, comfortable clothes suitable for warm days and cool evenings.
Clothing that covers your shoulders and knees is best, especially while in Satsang and temples. We recommend bringing a shawl or wrap.  For more information, check
the 
the local weather forecast
 to assist you in your planning.
The Sivananda Ashram Yoga Farm is a spiritual environment based on the premise that people come to focus within for self knowledge and practice positive relationship. We discourage promiscuity, harassment, and violence. Given these points, we kindly ask that all guests and residents abide by these ethical guidelines of yoga.

Ashram rules play an essential part in maintaining the pure environment and elevating vibrations necessary for the practice of yoga and meditation.
Ashram Guidelines
Attendance at the morning and evening meditation and one yoga class daily is mandatory.
Alcohol, tobacco, meat, fish, eggs, coffee and drugs are prohibited on the premises. Pets are not allowed. We cannot cater to personal dietary preferences except the yogic-vegetarian meals. Absolutely no drugs. No taking, distributing or dealing in or around the premises. If you learn of others keeping, taking or distributing drugs you are obliged to report this to the Ashram director immediately.
All deposits and payments made to Sivananda Ashram Yoga Farm are non-refundable unless canceled within the first 24 hours after making your reservation. If you need to cancel or reschedule at any time after this initial period we are happy to accommodate you; your payments will be converted to an Ashram credit which you may use for up to twelve months from the time of cancellation for either course tuition, accommodations, or both. In case of early departure a credit note can be issued  (not valid for purchase of shop articles. No cash refund.)
Check-in time is 2:00 pm – 7:30 pm
Check-out time is by 12:00 pm. You are asked to return your key and remove all personal items from your room by that time, however you are welcome to attend the full day schedule.
Reception is open daily from 8 AM to 7:30 PM. We are unable to check-in any guests outside of reception hours.
Please wear loose, modest clothing – no tight clothing. Public nudity is not allowed.
The Ashram is not responsible for any loss of valuables.
Please help maintain the peace and purity in the meditation room.
Cooking, candles and incense are not permitted in the rooms or tents.
The playing of music is not allowed (except with headphones).
No mobile phones in yoga classes, meditations or lectures.
Please keep silence after 10.30 pm.
One hour daily community service (Karma Yoga) such as gardening, maintenance, organizing etc… would be greatly appreciated.
Photography, audio and video recording requires previous written authorization of the course directors.