SPEND TIME IN A PURE NATURAL SETTING
The Yoga Farm accommodations are separate cabins that are nestled under trees with beautiful surroundings.  If you would like to register, please click on the links below and it will bring you to the
Yoga Vaction
registration page for the accommodations of your choice.   The rates below include daily Satsangs, organic vegetarian meals, Hatha Yoga classes and access to ashram facilities.  Learn more by checking out our
Guest Information
page.  Special courses and events have an additional tuition rate.  You can check our
Program Calendar
for a full listing of events.  We also welcome
day guests
, but please let us know ahead that you are coming.  There is a holiday surcharge during Easter, Memorial Day, 4th of July, Labor Day, Thanksgiving, Christmas, and New Year.
Deluxe Shanti Cabins
These extremely comfortable and spacious cabins are tastefully furnished and decorated. Watch the deer wander by from the front porch with sun shade.
For your comfort, an air conditioner, propane heater and ceiling fan are provided; furnishings include a desk/table and chairs, dresser/wardrobe and a sitting area. A small refrigerator, dishes and cutlery are provided.
Pricing
Options for single, double, or triple occupancy are available. The Shanti cabins include private bathrooms with showers.
-Double(share with another person)
$240/night 
– Single:
$280/night 
Siva and Krishna Cabins
Our Siva cabins are nestled at the base of Siva Temple Hill and offer a beautiful view of the valley.
Krishna cabins have a wonderful view of the Vrindavan pond and are our newest accommodations. They feature an outdoor porch, bamboo wood flooring and are built with high grade materials. Furnished with a side table, dresser and propane heater.
Pricing
Options for single or double are available. Each cabin has a private bathroom, including shower.
-Double(share with another person)
$180/night
– Single:
$220/night
Om Cabins
Our original Om Cabins are placed in a peaceful and tranquil setting, on a gentle hillside overlooking the pond and surrounded by the natural beauty of the Ashram.
Each cabin is named for a different virtue, such as happiness or contentment. Each cabin is furnished with a dresser, desk, night stand, ceiling fan and propane heater.
Pricing
Pleasant, simple lodging can be booked as single or double. Om Cabin guests share a nearby bath house.
-Double(share with another person)
$130/night
– Single:
$180/night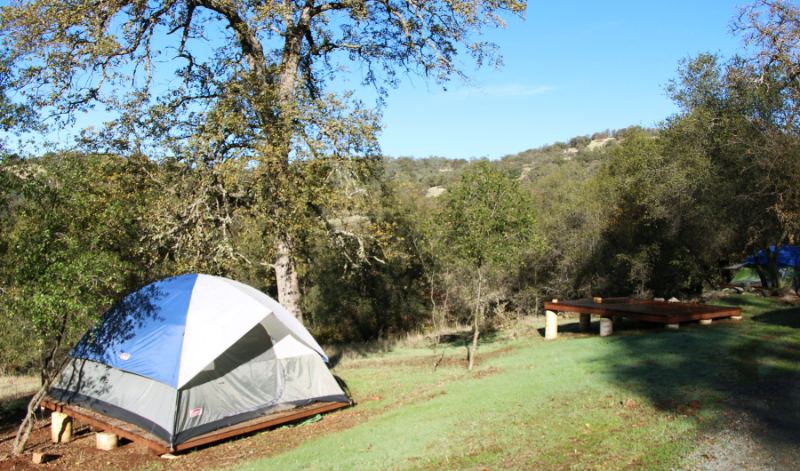 Tenting
Guests may bring their own tent or rent out an ashram tent and camp on the land. Sleep closer to nature in the fresh, open air. There are deck platforms designated for tenting.
Pricing
– Bring your own tent:
$75 / night
All is one.  The world is one home.  All are members of one human family.  Cultivate cosmic love.  Smile with the flowers and the green grass.
-Swami Sivananda