Siva Wellness Center
Relax, Reset, Rejuvinate.
Yoga Health, Ayurveda, Massage
Invest in your own well being through an experience that allows you to tune into your body's innate wisdom and bring you into balance. Derived from an ancient Indian tradition, these holistic treatments are designed to restore balance and reestablish calm and harmony. They are deeply cleansing, rejuvenating and purifying to the body mind and soul.
We have special Ayurveda retreat weekends each month devoted to Ayurvedic learning, the sister science of Yoga. Learn more about the meaning of ayurveda.
The Well-Being Center is open daily. Please call or email to schedule your appointment.
Phone:  530-272-9322
E-mail:  [email protected]
Ayurvedic Consultation
Discover your own personal constitution and learn the basic tools to keep your body, mind, and spirit in balance through diet, lifestyle, and other tools for healthy living.
Initial Consulation  $165
Follow-up Visit         $100
Abhyanga
A profound restorative experience. This beautiful rhythmic full body massage uses warm herb infused oils specific to your constitution. Penetrates deep layers of tissue leaving you with a feeling of stability, warmth and comfort. 
Benefits (Click Here)
Nourishes and detoxifes the body 

Relaxes and calms the mind

Leaves the skin smooth and silky  

Supports and nourishes the nervous and immune system

Improves digestion, circulation and lymphatic flow

Helps to relieve spasms, aches and muscle pain

Imparts tone, vigor, softness, strength and color to the muscles, skin and tissues.

Increases longevity and decreases effects of aging.
Receive this treatment with 2 therapists for the full experience. 
1 therapist    $135 (70 Minutes)
2 therapists / 4-hand $145  (50 minutes)*
*available during our special Ayurveda weekends and spring and fall detox retreats
Ayurvedic Bliss Therapy
Rejuvenate and energize the subtle bodies with a transformative and luxurious full body treatment that includes 3 holistic therapies flowing one after the other. First enjoy the Abhyanga, followed by the Shirodhara: a soothing stream of  warm oil flowing over the third eye. Last comes Swedhana, a full-body herbal steam treatment.
Benefits (Click Here)
Calming and purifying the mind, body and spirit.

Nourishes the hair and scalp
Aids in release of stress
Normalizes sleep cycles
Reduces insomnia or headaches.
Nourishes the skin and remove toxins.
1 therapist    $245  (2 hours)
2 therapists / 4-hand $255  (100 minutes)*
*available during our special Ayurveda weekends and spring and fall detox retreats
Ayurvedic Bliss Nasya Sinus Treatment
(Abhyanga-Nasya-Svedana)
A full body warm herbal oil massage (as per Bliss – above), followed by a facial lymphatic treatment including aromatic steam and herb-infused nose drops (Nasya). The experience ends with a full-body herbal steam treatment, nourishing the skin and removing toxins.  This treatment clears impurities from the head, opens sinuses and stimulates the flow of energy in the head and neck area.
$225  1 therapist $225 (120 minutes) or
2 therapists / 4-hand $245  (100 minutes).**
**Available during our special Ayurveda weekends; spring and fall detox retreats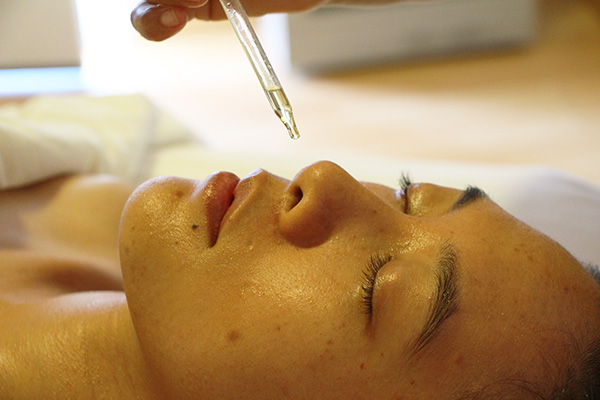 Head, Neck and Shoulder Massage
This massage targets the specific areas of the body where many of us hold stress.  It relieves aches and tightness, and improves circulation.
$50  (25 minutes)
Ayurveda Rejuvenation Facial
This soothing and restorative treatment includes a gentle exfoliation to clean dead skin and promote circulation using gharshana or raw silk gloves. Includes a marma point session to relax the mind, hand and foot massage, herbal steam to open pores, and application of the finest ayurvedic products to clean and hydrate the skin.
$95  (60 minutes)
Kati Vasti
Is a traditional ayurvedic treatment consisting of a gentle back massage and steam followed by 30 minutes of warm medicated oil pooled in specific areas on the spine.
Benefits (Click Here)
Helps with:

low back pain

Lumbar spondylosis 

Sciatica 

Sacroiliac joint pain or dysfunction 

Coccydynia 

Spina Bifida 

Back pain and stiffness
It is best to have a series of 5 to 7 treatments or it can be added on to an abyhanaga.
$90  (40 minutes)
Retreat for a Day
Take time to integrate Ayurvedic treatments, experience yoga classes, practice meditation and enjoy healthy, organic vegetarian meals. Contact us at 530-272-9322 to register.