Sorry, no programs exist here.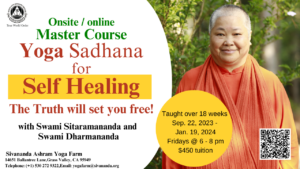 with Swami Sitaramananda and Swami Dharmananda
September 22, 2023 - January 19, 2024

Sivananda Ashram Yoga Farm

Join us for this 18-week course (18 sessions) with Swami Sitaramananda on Yoga Sadhana for Self Healing. Swamiji will cover many topics in depth with wisdom that are important for our knowledge and understanding on how to be healthy in body, mind, and spirit.