The program Calendar is subject to change and is being updated regularly.
Please note that the ashram will have limited programs in July & August 2022.
Sorry, no programs exist here.
Sorry, no programs exist here.
July & August 2022
This July and August 2022, we will have limted programing for 2 months.  Our senior staff will go to the Yoga Ranch in New York to help run programs there.  If you would like to join us in New York, you are most welcome.  The ashram there has been around for many years and is a wonderful retreat about 2 hours from New York City.  Visit the NY Ranch Calendar >>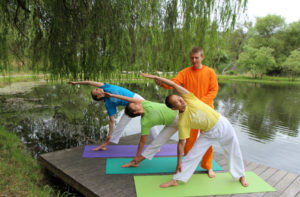 with Swami Sitaramananda, Swami Jnaneswariananda, Swami Dharmananda and Swami Adi Parashaktiananda
October 22 - November 20, 2022
Grass Valley, CA, USA
This 4 week course, which offers a profound personal experience, will allow you to transmit the knowledge of yoga to others. The spiritual essence of yoga is learned through a combination of repeated practice and inspirational lessons.