Tue, 7/27 10:27PM • 59:29
SUMMARY KEYWORDS
Spiritual life, moksha, goal, maturity, means, dharma, motivation, Guru, purpose, money, stage of life, castes, spiritual evolution, meditation, growth, karma, karma, enjoyment, world, society
INTRODUCTION on GURU PURNIMA
It's very nice to have you all here. And today is the full moon, and also Guru Poornima, which is a very special and auspicious day on the full moon that is traditionally offered to the Guru. You have Mother's Day, Father's Day, Secretary's day and Valentine's Day, and in Vietnam they have a Teacher's Day. I'm not sure if you have Teacher's Day here, but in Vietnam it is very important. However, in India the teacher is called not only a teacher but rather a Guru. The day is called Guru Poornima, which means the full moon. So today, it happened to be the Guru Poornima, the Full Moon celebration of the Guru.
You can have a dance teacher, you can have a computer teacher, you can have a cooking teacher. Oftentimes people use this word Guru for this, you know, my cooking Guru, my dancing Guru, my music Guru, like this. But for us here the word Guru means a spiritual teacher, the person that teaches you the highest kind of knowledge that gives you liberation from suffering, liberation from bondage. That's called a Guru. He / she is the one that removes your darkness and gives you some light. Tomorrow evening we have a puja, a special celebration, Puja, to dedicate to Guru Poornima.
The topic of the upcoming four days retreat at the ashram here is called the "Yoga of Transition." And at the same time, we welcome the TTC graduates in this "TTC refresher," that means knowledge being refreshed. Because if you know something and you don't think about it, it gets dusty, it gets rusty, so you have to renew from time to time.
VEDIC GUIDANCE ON LIFE TRANSITIONS:
Life is continuously flowing. You are always in movement from one state to another, because that's how you feel alive. If your life is not moving, then you feel that you are stuck, stagnant and somehow you're not moving forward. Everyone wants to move forward in life. Sometimes you get confused because you don't know where you are now, what you are doing, where you are going, and what is the right thing, because sometimes you receive pressure from all around, your parents, your friends and yourself. You say, "Life is pulling me in different directions and I am confused."
The ancient teaching of the Vedas have given you some guidance. And of course, you need to have a teacher who knows you very well, who can tell you (more or less) where you are at, and what are the different steps that you need to take. Today I'm going to present to you a little bit of these different ideas to guide you.
Number one, you need to keep in mind all the time that you are an entity: body, mind, spirit. You are not just a body. Our bad habit is that we think of ourselves as only a body. If somebody asks you who you are, and you present yourself to somebody, you always say: "I'm 30 years old" or "I'm 20 years old." You define yourself as the age of the body, as the physical body. But in fact you are more than that. And you need to keep that in mind.
First, the physical body, as you know, is born and then it grows, and the cells are growing and then decaying. So the state of your body depends upon your age, and your age will change a lot of things. So first remember the body.
Second, you need to consider the astral body, which in general means your mind, your energy. This energy comes also from the maturity of your mind, it depends on the quality of what you think. The thought that you have in mind sometimes gives a lot of prana and certain thoughts that you have in mind block your flow prana and make you feel very small and weak. So, the astral body is very important: your prana level, your mind, your subconscious mind, your emotions, the way you think, and your idea of yourself, all these are influencing the way you conduct yourself in life and the way you move in life.
Third, there is the core body which is called the causal body. The causal body is the seed body. This means that there is a reason that you're born in this particular body and circumstances. According to Yoga philosophy, you are born to pay certain karmic debts and learn certain lessons. That's why each person has different kinds of circumstances in life.
Somebody is born healthy, in a very rich family, and is loved, and somebody is born in a poor family, in a physically challenged body and is rejected and becomes an orphan. Why? There are different circumstances, different lessons that we need to learn. In the same manner, if you plant an orange seed in the ground, then what you expect is an orange tree. You cannot plant an orange seed and expect a banana tree. The law of cause and effect works very precisely.
Depending on the seed thought (the cause) that you have in mind, you will be born in the body of a male or a female in certain circumstances of your life, your father, your mother, your culture and all these things. There is something that governs your life in the core and that is your reason to be born. This is a karmic lesson to be learned at a deeper level.
Then beyond all this there is the Atman. Atman is your Self. It is your freedom, your Sat Chit Ananda, your bliss, your ultimate goal, what you truly want. Whatever you want in life is to know the truth, to not have any difficulties and to be aware, to be awake and not to be ignorant, and also to be happy and blissful. In general, we say that your purpose is to find your true Self, and that's the purpose of all the yoga meditation practices and all Vedanta study. So you use the three bodies as your vehicles to navigate through life.
This knowledge comes from the Vedas or the Vedic culture. They give different sign posts that will help you to navigate this life. Vedic culture includes Yoga, Vedanta, Ayurveda, Jyotisha and Vastu. In Vedic culture the Guru, the spiritual teacher, is important. The Guru will guide you through.
SELF DEVELOPMENT AND THE GUNAS
The other important idea that you need to keep in mind in order to understand yourself, is the idea of the three gunas. The idea is that in life you are evolving from Tamas to Rajas to Sattva. So if you ask yourself: "Am I evolving? Where am I going?" Then the answer has to be: "I am moving from darkness (tamas, inertia, darkness) to rajas (movement, restlessness, egoism) to sattva ( purity, clarity, wisdom).
In tamas, the veil over your consciousness in the beginning is very thick, so you cannot see the oneness, you only see a big difference between you and me. In rajas, there is a little bit less thick veil, but you can only see partially, as you are self-centered and you only see from your point of view and you cannot see other people's point of view, because you don't have wisdom. In Sattva, everything is clear, light is coming in, and you see the whole big picture.
Your evolution from ignorance to wisdom corresponds with your age and stage in life. At a young age, there is tamas, ignorance. Then you grow up a little bit and then you care about yourself. Your ego becomes big and you only focus only on your needs. During that time, you still don't see the picture of your relationship with other people, your relationship with the world. And then eventually, you become more enlightened, you become more sattvic, you become more wise and at that time your vision opens up. And then you start to situate yourself in a more correct manner, in relation to the world and in relation to other people. You see the big picture about life. And you also see the goal of life, which is to attain wisdom, to pay your karmic debt and to be free.
Your maturity comes with age, your biology dictates a certain psychology, a certain maturity. However, to note exceptions to the norm: Some people are very young and they are very mature. I met a boy who was six years old and he talked like an old man. He didn't want to play, he was very serious with meditation and yoga. And I have met people 60-70-80 years old, and they are like kids. So, it depends on the individual.
FOUR VEDIC TRADITIONNAL STAGES OF LIFE:
The brahmacharya stage, a student's stage (6-25 years old)
The grihastha householder stage is from 25 to 50.
Vanaprastha, retirement stage (50-60)
Sannyasa, renunciation stage
In brahmacharya you are studying the basics about life and your separate self, you learn asanas, pranayama and keep brahmacharya. Your duty is to your parents and your teachers.
Grihastha is when you get married, you have children and you participate in the society. Your duty is to your children, your family and also to your parents.
Vanaprastha stage is when you retire to the forest. Retirement here is not just like when you don't have a job and you retire from the production line, the economical point of view. Retirement in spiritual culture means that you have done your duty, you have done your duty to family and society and now you're going back to yourself. You might live a secluded life in an ashram (oftentimes in a secluded forest) and the only thing you do here is spiritual practices, yoga, meditation and so on. You don't worry about politics. You don't worry about what's happening in the world. It is a certain state of consciousness where you withdraw within yourself, you allow yourself to live your spiritual life. Before you had to take care of the family, the society, the children and the whole thing. The fourth stage of life is the sannyasa stage. At that time your goal, your purpose, is only renunciation and you take a vow of renunciation.
The evolution between these four stages of life is based on the idea that you are born with a certain karma, the body is changing, but also you have to pay your karmic debt and then you have to go back to your spiritual nature, that you don't have time to waste.
The evolution between these four stages of life is based on the idea that you are born with a certain karma, the body is changing, you have to pay your karmic debt, and then go back to your spiritual nature, so you don't have time to waste. Sometimes if you don't have this understanding of your biological, psychological and spiritual development, you can waste your time and be mixed up.
Example: I have a student who is about 50 or more years old, almost
She came to class every day, she took all the courses and she was very, very happy. She was a grandma. And then one day, she didn't come to class. I met her and I asked her, "Why are you not coming to class?" And she cried and she said, "Oh, because I have to go to work and take care of my grandchildren."
I asked her, "Why are your children not taking care of your grandchildren?" She said, "Oh, my children take care of the grandchildren, but they don't have enough income so I think that I have to go to work and I have to take care of my grandchildren." Then she cried again. Why this suffering? Because she went against her evolution. She came to vanaprastha stage and she went back to grihastha stage.
Normally, you have to go forward and you don't go back. You can go as slow as you want, but you have to go forward in life. So, that's the whole idea, to have guidance, to know where you are and where you are going. What speed you're going is up to you, but you have to go in the right direction and not go round and round and also not go back.
EVOLUTION IN INNER MOTIVATIONS:
Motivation is called purushartha, it is about our inner motivation.
The scripture says that there are four motivations which everyone has. You need to recognize your inner motivation, what is the energy or the thoughts within you that push you to make certain decisions.
The first goal of life is called kama. (Kama is not karma, there is no 'r').
This clarification is helpful for the Vietnamese speakers because they have a problem with words using "R" anywhere other than at the beginning of a word. For English speakers it seems not necessary and a bit disruptive to me. I would leave it out.
Kama means enjoyment, enjoyment of the senses, enjoyment of the emotions, enjoyment of life. So the first goal when you are alive is to enjoy life.
The goal when you first come into this existence is to enjoy life.
2. The next goal is called artha. Artha means having material wealth, in order for you to do what you need to do. It is a goal of wealth and everyone has this goal.
3. So the next one is called dharma. Dharma can be translated as righteousness, learning your position in life, in society. Dharma also means duty, and acting according to that duty.
4. And the last is moksha. Moksha is the goal of liberation, of spiritual knowledge.
According to Vedic knowledge, when you were born, you did not just start your life. You have started your life way, way before in many past lifetimes. And then in each life when you're born in the body there are only one lesson, two lessons or a few lessons to be learned, and if you are not finished with your learning, you will reincarnate in different circumstances, a different body, in order for you to continue to learn.
CORRESPONDENCE BETWEEN GUNAS, STAGE OF LIFE AND MOTIVATION:
Motivation of Kama in a Young Student's life (Brahmacharya stage): The quality of tamas is dominant. When you have the goal
of enjoyment of the senses, enjoyment in life, then you are in tamas. You don't have spiritual knowledge and you do not know the purpose of your life. You are spiritually ignorant. You think you are born with the five senses to enjoy.
In the beginning when you are young, (brahmacharya stage), you are in tamas and you don't have the moksha goal. You have the kama goal. You want to play. Children just want to play and that's it. They don't worry about what is life and what is liberation from suffering. They don't even know. They are suffering because they miss something, and they cry, and then they maybe take it from others.
People like Swami Sivananda, even when he was young, he shared whatever he had with other kids. But not necessarily every kid is like this. We are quite selfish. When we are kids, sometimes we can torture animals and if we don't have something, we can go and steal from other people because we don't know these rules of conduct. We are selfish. Tamas is strong, ignorance is strong.
Motivation of Artha in the householder's life (grihastha stage): The quality of rajas is dominant. During this stage, you want to make money in order for you to enjoy your senses. You are more rajasic.
Rajas means you are dominated by self-motivated action. In this stage, if you see people suffering from lack of wealth or from limitation, you don't move from your position because you need to have your money and your life and your desire fulfilled.
Motivation of Dharma in Retirement to the Forest phase ( vanaprastha stage) – The quality is sattva.
As you mature, Sattva, which is the quality of purity, of knowledge, of wisdom, starts to dawn. You start to think of the purpose of life, "who am I? What is the purpose of all this?" Then you move to dharma. I have seen business people who made a lot of money and gave it all to charity. For example, they share the company's profit with the employees, who they consider to be their own family. They buy houses for the employees, and share the profit in the company. So there are business people who do not have the goal of making money for their own enjoyment only. They start to have a lot of sattva in their mind, or purity and they want to do the right thing. They want to do charity, they want to share, they don't think that this is my money, this is my company, so they are not rajasic, they start to become sattvic as their motivation and behavior change.
In terms of time, the same thing can happen. Normally we say time is money. We think, "Okay, my time, I'm going to take care of myself, it is my time, I want to live my life". But eventually when sattwa dawns, you realize that this is not your energy, your energy is actually God-given energy and you are only a custodian. You are the one who is keeping the energy and then sharing the energy as an instrument, for a higher purpose that you do not control. Then you don't think that it is my time, my energy, in order to get more wealth and more enjoyment. In sattwa, your thinking about your life changes. You think about a bigger picture, other people. You become more aware. In ecology, you start to think: "Oh my God, we are destroying the planet," the climate changes and you start to spend a lot of time helping society, or helping to alleviate the climate change.
I'm just giving this as an example, that you are not just only only leading your life in a selfish manner, but you start to give out your energy and your time and you're starting to think of a bigger picture, the society, the environment, the world and other people. At that time the goal of dharma becomes more important. We move from darkness to light. It is good to recognize the transition, although sometimes it gets very confusing. Sometimes you feel inner conflicts. You think,"My parents say that I have to go find a job, get married, make money and so on. But I feel a very strong desire inside to help the world and to serve the world. I don't think that I can live my life just thinking of, you know, two, three people in my family, and that will be sufficient for me. I feel that I need to be responsible for the world. I'm a citizen of the world. I am a member of the world family. And I want to give my time and my energy and care for the world's family and try to live a dharmic life."
Motivation of Moksha in the renunciation stage (sannyasa) as sattva becomes dominant.
At this time, your motivation might change again into the fourth goal of life called moksha. You start to practice yoga, and you start to practice meditation and you find a certain peace. Then you want more of this peace and more of that expansion of consciousness. When you expand your consciousness, you start to have the moksha goal. Now, you want to take more time to go to the ashram, to do retreats, and do karma yoga.
Swami Sita's example of evolution in motivations :
"When I just arrived in Canada, I was 18. I was studying in university, and I have to find some money to send money back to support my family, but also to take care of my livelihood. I was 18. At that time, what kind of job? I don't know society, I do not know anything. So I went to find out in the newspaper, and I found a job in an entertainment ground, an amusement park. In this entertainment ground, the girls I worked with were very young, they were my age and they enjoyed themselves, flirting, drinking… through their KAMA goal , right? And one person that was the most miserable in that whole entertainment ground was me. I was so out of sorts. It was not at my place, loud music, entertainment, amusement…it was an amusement park. And I was so unhappy. Why? Because I did not fit in this KAMA goal.
Even though I was just 18 and I could have played, I was not meant to be entertaining myself and entertaining people. That's why I was so unhappy."
"So I changed. And, you know, in order for you to change, you have to have some self confidence that you can do something else. I did not speak the language well and I was very young, in that country
Here I do not understand what you mean by "in that country". You could say "in a foreign country" or "in a country with a very different culture", etc.
and so on. But I changed. I learned how to become a secretary. It means I worked in an office, and then I had to go to learn how to type, and that was 50 years ago. Anyway, I had to go to learn how to do type writing on the electric typewriter, because at that time there was no computer. And then I changed my job. So eventually I finished school. And then I worked, and later moved to the ashram. Normally people's salaries just come higher. And for me, the salaries have come slowly down. Because I kept choosing new motivation. I'm just sharing with you the journey. My journey was quite fast. My change was very fast. But for you the change is happening also. And you have to do soul searching all the time: what you do, what you want, and so on. It might be slower. But you are in movement as much as I am in movement. There are different voices within all of us that are talking all the time".
"At that time I had a job. I had a very good job, a professional job. I had a great salary, and could travel as I liked. At that time, I traveled as I liked and bought a car and bought this and that. I went to Paris and bought fashion clothing and things like this. It did not last long. I can buy this fashion clothing and I wear it. But then I wear it one time and let go. Why? It was not according to me, to my motivation. It was not my motivation. I could have made money. I'm good at making money. I can do business and make money, but I do business for my family and I give them business advice, but I could not continue to do business, the ARTHA GOAL did not fit me and it did not work."
"So, when I became a social worker, I did more things for society. Actually, I was working taking care of my family, but also doing social work at night. That means as a volunteer person. So, then I volunteered full time, I worked full time and took care of my family full time. But the dharma goal became very important. I cared so much about society that I suffered when society suffered. When there was something that happened, something unjust that happened to society, I was motivated to help. So I was in the street protesting things and I became a militant activist about different causes for children, women, poor people, the environment, social justice and so on. The DHARMA GOAL has become very important. And I was very happy to do that."
"I went to the ashram when I was 28. I was already working for society a long time before that time. Because of karma, my family stayed in Vietnam so I went to Canada by myself to study. So all of a sudden, I did not have any family to take care of, so I took care of my society. Which at that time was Canadian and different people that lived in the city. They were all kinds of people and all kinds of cultures. At that time I did not think that these people were foreigners. I worked with Haitian people, Italian people, English speaking people, French speaking people, all kinds of groups, all kinds of classes. I was a social community organizer, social worker. At that time, I thought of these people as my family. The whole city was my family, and I wanted to take care of them. My DHARMA GOAL started early."
"And then one day, the motivation changed again. I was burned out from doing action, social services, and then I realized the ego that was there, I realized a certain ego that wanted things to change the way I wanted it, the way I thought. So, the sattva started to come in a little bit more at that time, I felt, "Oh, now I understand God's Will." The words "God's Will" are not easy to come by. Before I thought this was me, but now I started to realize, "Oh my God, there is something that is higher than me, higher than politics and everything. There is a Will that is determining what happens in this world, the way it works and that makes things happen. And that Will is God's Will".
"I was not born with the idea of God. But then, at that time, somehow it came to my mind. There is something that you need to tune into. And then you have to become an instrument of that Will. And there is nothing about you. So these words "God's Will" came naturally. My motivation changed from DHARMA to MOKSHA, which is called liberation . Then I became a yogi, I became a sanyasi. I'm very happy now. That was my journey."
GUNAS AND CASTES
According to guna and karma, you find yourself in a certain caste (or group) as follows: Sudra means when the tamas is strong and you are doing a service job, like my job at the entertainment ground and in a secretarial position before. At that time, you don't ask spiritual questions. I believe the girls the same age as me at the entertainment ground did not ask existential questions. For myself at that time I already had a lot of questions, therefore I did not fit for long in the sudra group.
Here you can say: I did not fit in the sudra group. I did not last for a long time in that group. OR I did not last for a long time in the sudra group.
I briefly became a Vaishya, when I started doing business for my parents and I was more rajasic, but it did not last long. Then I became a kshatriya when I started to think of others, became an activist, and had a dharma goal. Kshatrya is a mix of rajas and sattva. Then the
last caste is brahmin when sattva is dominant, this is when I became a Yoga and meditation teacher and a sannyasi renunciate.
COMBINATION GUNA, SAGE OF LIFE, MOTIVATION, CASTE:
Tamas, rajas, sattva change. The biology, maturity and psychology change, the motivation, inner motivation, what you really want changes, and then the manifestation of the inner motivation, your occupation and your job changes. In Jyotish, there is a way you can see the motivations. For example, on a total of nine points (depending on where the planets in the birthchart lie), you can see a person's motivation: If a person has Moksha goal 4, Dharma goal zero, Artha goal 4, Kama goal 1, then this life picture doesn't make sense. The person wants to liberate himself from suffering but will not make an effort to live righteously, or to seek to know the laws of Nature, the big dharmic picture. Therefore he goes on accumulating wealth and at the same time wants to be free, and yet cannot be at peace with himself.
The advice is, "You need to do more selfless service, you need to increase the Dharma goal. You need to do more selfless service, and you need to give your money a little bit more in charity." So now the profile of the motivations changes: Moksha 4, Dharma 2, Artha 2, Kama 1. In this scenario, the Moksha goal is still there, given high value, but then you won't feel conflicted. Before, you wanted to make money and at the same time you wanted to do yoga, and you wanted liberation, you wanted self-knowledge, and you didn't do any service for society. When you run these two goals together and it doesn't fit, then you have some inner conflict.
What you need to do is to put a little bit more time, a little bit more money into charity, a little bit more time into charity, thinking about other people, how you can help. And then don't just sit at home, study and meditate. I'm sorry to say that. It's not like I don't promote meditation. But also in order for you to grow you need to do karma yoga. I mean, you need to serve other people, and it's a way of meditation. Then it will smooth everything out. And then you will feel better.
Kama goal and Moksha goal: Let's say you have some desire for self-knowledge. But you have a very strong habit, a desire for enjoyment of the senses. So how does it work? It doesn't work. So you have to practice more yoga, but focusing on withdrawing the senses, in order for you to see a world that is beyond the sensual world. That is the spiritual world, when you start to meditate more and withdraw more, not running around shopping so much. Be content, be more within.
During the COVID pandemic time you have to stay home more. I think that it is a good thing that you stay home and you don't go shopping or to coffee shops, sitting and drinking coffee and chit chatting with your friends. You cannot do this now. Vietnam is completely locked down, and here in America last year it was completely locked down. People complained and they were unhappy, but actually it was a very good thing. It forced them to move into another space where they had to be looking inside, working on themselves and not going into the outer enjoyment. The KAMA goal will be less, and the ARTHA goal also.
Sometimes we are forced in the time of COVID. We have to close our businesses and slow down. Before, the goal of making money was very important. But now the artha goal will be less, kama goal will be less, DHARMA goal will be higher, and the MOKSHA goal, the knowledge goal will be higher.
MANAGEMENT OF INNER MOTIVATIONS FOR GROWTH:
I hope that it helps you to think about your life and think about your priority. Of course, you can change your life quickly, but usually it takes time. At least you have to be conscious of your motivation and try to go forward and not go backwards. You need to become less selfish, and not more selfish. If your choice is more selfish, you are going backward. If your choice shows that you are less selfish, you are going forward. If you are more ego-oriented, then you are going backward but if you are more God-oriented then you are going forward. If you are able to surrender your personal will to God's Will, then you are going forward. If you fight with God's Will, and you want to impose your will, then you're going backward.
Conclusion:
You have to think of what motivates you inside. And then you have to have a very clear picture of your inner goal, and then you accept it.
The idea is we don't usually know where we are. Sometimes, the inner motivation to grow is present but you are conflicted as you struggle with the pressure of what other people say and your own outer, louder voice of the lower mind and habits which pull you in a different direction. So then you're all confused. This is why you need to meditate daily, be quiet, think about the purpose of your life and who you are and what you want.
The advice is "don't jump too fast", do not try to jump life stages and motivations too fast. Because if you jump too fast, you will miss something. For example, if you are young and you need to enjoy your life, that is perfectly okay. Then you need to have time for your enjoyment and at the same time, try to turn it into some sattvic enjoyment like seeing a nice sattvic movie, eating popcorn. It's all okay. You have to manage these different inner motivations, avoid inner conflicts, accept your current situation and move on. Your inner motivations will evolve at their own speed.
Om Tat Sat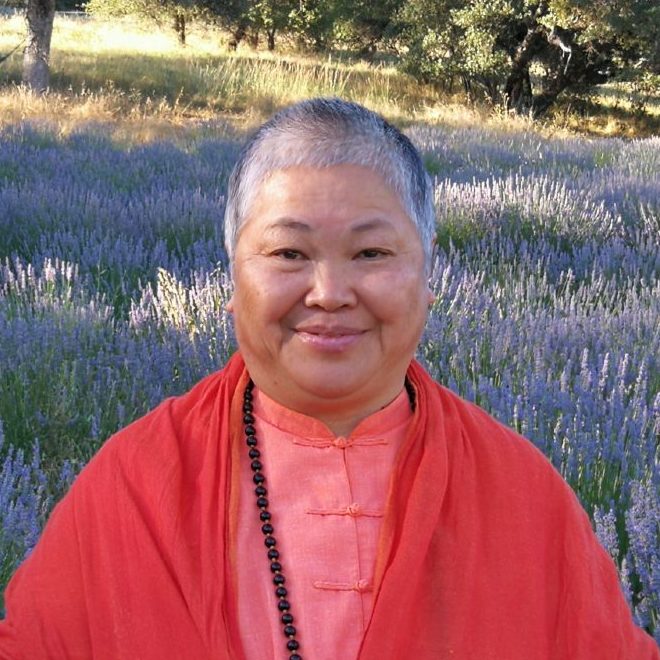 Swami Sitaramananda is a senior acharya of the International Sivananda Yoga Vedanta Centers and is director of the Sivananda Ashram Vedanta Yoga Farm, California and the Sivananda Yoga Resort and Training Center, Vietnam.  She is acharya of China, Taiwan, and Japan as well. Swamiji is the organizer and teacher of the Sivananda Yoga Health Educator Training (SYHET) program, an 800-hour program on yoga therapy, accredited by the International Association of Yoga Therapists (IAYT).

Swami Sitaramananda is the author of "Essentials of Yoga Practice and Philosophy" (translated in Chinese, Japanese, Vietnamese, and Russian), "Positive Thinking Manual", "Karma Yoga Manual", "Meditation Manual", "Swamiji Said, a collection of teachings by Swami Vishnu" in His Own Words. She is responsible for the Vietnamese translation of "Completed Illustrated Book of Yoga" (CIBY) and "Meditation & Mantras" by Swami Vishnu. Many of her video & audio lectures on Yoga life, philosophy, and psychology as well as articles and webinars can be found on this website.

Swami Sita is an ardent supporter of the integration of the Vedic sciences such as Vastu, Jyotish, Ayurveda, Yoga and Vedanta. She is an international teacher of the Sivananda Yoga Teachers' Training Courses and Advanced Yoga teachers' Training courses, as well as Meditation and Vedanta & Silence Courses both in Sivananda Ashrams in Vietnam and in Grass Valley, CA.