Yoga of Discernment – From Action to Actionlessness
with Swami Sankarananda
February 23 - 28, 2020
"Brahma satya jagat mithya, jivo brahmaiva naparah" summarizes the teaching of the great Yogi Adi Shankaracharya. It means that Brahman (the Ultimate Reality) is the only truth, the world is illusory, and there is ultimately no difference between the individual Self and the Brahman. The Yoga Masters tell us that what we commonly think of as Yoga, including Asanas, Pranayama, Bandhas, Kriyas and such, are not Yoga at all, but rather preparation for Yoga. Yoga is not other than union with the highest, called also Self Realization (realizing one's own true nature), God Realization (realizing that "I and the Father are one") or Moksha (liberation).
Yoga is achieved through following one or more of the various Margas, or paths, within the science of Yoga philosophy and practice. Jnana Marga is the path of Self knowledge, its philosophy and practice give guidance and tools by which one may peel away layer upon layer of delusive identification and ideas, arriving finally at direct experience of the mystical answer to the question, "who am I?" This path is followed with purified discernment – Viveka – in a step by step process of seeing through our experience, discerning that which is unreal and that which is Real.
In this workshop we will explore both philosophy and practice of Jnana Marga using the text "Drg Drishya Viveka", or "Discernment between the Seer and the Seen" by Shankaracharya. We will take a beautiful deep dive into the philosophy and you will have an opportunity to practice this discernment yourself, we will also practice Vedantic Meditation together.
The only prerequisite for the workshop is an open mind and willingness to let some preconceived notions be destroyed as we explore the nature of Self.
Teacher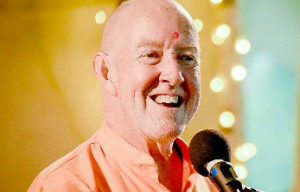 Swami Sankarananda
Swami Sankarananda is a simple pilgrim. Not finding peace in a life of business success he turned inside, became a disciple of Swami Sivananda, and in 2013 he began to walk across and through the USA in a pilgrimage for peace, completing this in early 2016. He now…
Learn more about Swami Sankarananda