Yoga of Recovery: Between the Mat and the Meeting: Ayurveda for Our 'Addictiveness'
with Durga Leela
April 21 - July 7, 2021
Description
Embody health in recovery from all addictive disorders, (substances, food/sugar and behaviors) through Ayurveda, framed in the most accessible, relatable and practical way. Address the needs and vulnerabilities that underlie these habits with a pioneering look at our stress-response tendencies. We'll look at our 'acting out' tendencies, and how physical practices and daily routines can widen the window of tolerance. We come to deeper self-understanding and self-regulation for resilience one day at a time.
Yoga of Recovery works with everyone whose lives have been affected by addiction, in themselves or loved ones – people who have sex addiction, eating disorders, codependents with no substance abuse, and others where substance abuse is present but it is not the primary presenting issues. The program is also open to anyone who wants to learn lifestyle and stress management skills.
Health and recovery from addiction and disease involve fully living in the wholeness that you are. By recognizing your innate strengths you can learn to revitalize your body's systems rather than to depend on addictive, unhealthy behaviors. Build a strong foundation for living well, and learn about stress, digestion, sleep hygiene, and detoxification. Practice deep self-care and emotional regulation through simple Ayurvedic daily routines that you cna practice at home.
The program is an integration of the philosophy and psychology of Yoga and Ayurveda – offering many physical practices to allow us to embody our recovery pathway.
By signing up through the Yoga Farm you will receive 3 months unlimited Yoga asana classes, available 7 days each week.
Click on this link to register: https://online.yogaofrecovery.com/courses/between-the-mat-and-the-meeting-april-2021?ref=ce189a
Yoga of Recovery 12 Week Session consist of:
Live sessions Wednesdays 4-6pm PST/7-9pm EST
Optional Open All-fellowship 12 Step Meeting – Sundays 8-9.15am
Optional Recovery Book Discussion Meeting (Not 12 Step) – Tuesdays 2pm PST

Pre-recorded videos to watch in advance (about 1 hour, released each week) and
We meet live on zoom once per week for 2 hours (Wednesdays 7-9pm EST, 4/21/21 – 7/7/21).  Here we review, discuss and share about the week's class topic – with a Buddy check in and also group break out sessions and Q&A with me – slightly different each week.  This is recorded in case you're not able to make the live session.  You have access to these recordings for one year
We have 2 YoR Recovery Meeting per week – a book discussion; and an open, all-fellowship 12 step meeting.  These are optional and not recorded.
Upon completion of this course you can submit to receive continuing education credits with 3 major Yoga certification organizations
Yoga Alliance – 50 hours — YACP Yoga Alliance Continuing Education Provider®
IAYT – 27 APD hours — Advanced Professional Development with the International Association of Yoga Therapists
NAMA PACE – 50 hours – National Ayurvedic Medical Association – Professional Advanced Continuing Education

Cost
$1200 (payment plans available)
"Thanks for a great course BMM. I plan to do again with you so I can absorb the material." GS, Yoga Teacher
"Durga, you are such a light to so many of us. I am humbled and grateful to be your student." JR, Chicago, Yoga Therapy Student
"I wanted to say thank you so much for the classes! I really look forward to them! The way you have structured the classes is really helping me to FINALLY have a little more clarity with the gunas and the doshas. I still have quite a way to go, but I feel like this is such a great start." TV, Yoga Therapist student
Teacher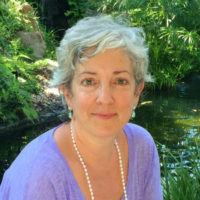 Durga Leela
Durga Leela is founder of Yoga of Recovery, a comprehensive program integrating Ayurveda and Yoga with recovery tools for a holistic mind, body and spirit approach for those affected by addiction and self-destructive behaviors. Yoga of Recovery is currently offered as workshops, retreats and certificate courses. Durga holds…
Learn more about Durga Leela