Online Raja Yoga for Peace and Happiness
with Swami Sitaramananda
July 21 - 24, 2021
During these 4 days workshop, Swami Sitaramananda will use the treasure of knowledge from classical Raja Yoga sutras of great sage Patanjali to discuss :
1. what is the mind and how it works
2. why and how to control the mind  for Peace and Happiness
3. What are the causes of afflictions and the obstacles to meditation
4. what constitutes Yoga sadhana and how to do it.
These workshops will give you insights on how your own mind works and help you to transform your mind from worst enemy to best friend. This wonderful opportunity to study from a senior advanced teacher is open to everyone , beginners, intermediate students and Yoga teachers.
Time & Date
July 21 – 24 @ 8 – 10 pm PST
Teacher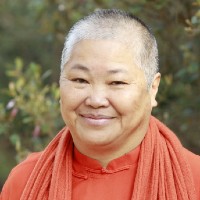 Swami Sitaramananda
Swami Sitaramananda is a senior acharya of the International Sivananda Yoga Vedanta Centers and is director of the Sivananda Yoga Farm, California and the Sivananda Yoga Resort and Training Center, Vietnam.  She is acharya of China, Taiwan, and Japan as well. Swamiji is the organizer and teacher of…
Learn more about Swami Sitaramananda