Online class on Muhurtha (मुहुर्थ ) or Astrological Time Management
with Niranjan Babu
August 7 - 8, 2021
A two day Online class on Muhurtha (मुहुर्थ ) or Astrological Time Management by Bangalore Niranjan Babu for students of astrology and for the novices too will be conducted on August 7th and August 8th at 7 pm California time (aug. 8 and 9 – 7.30 am IST)
This class in English will give you the nuances of Muhurtha or astrological time management to succeed in any work that you plan to do – travel overseas, build a home or office, study, apply for a job, attend an interview, marry, have a child, name the child and more.
Is Muhurtha different from your birth horoscope? Can the Muhurtha horoscope override the imbalances of the natal horoscope? Does a Muhurtha remove, neutralize or counteract the malefic indications of a birth horoscope? You will learn all these.
The two day course spread over five hours of teaching through power point will cover various ways of working an auspicious date and time based on five reckonings Nakshatra or Constellation, Thithi or Lunar Day, Vara or Week Day, Yoga or subtle energy influences and Karana (half a lunar day).
You will also learn about the 21 great evils known as Ekavimshati Maha Doshas and how they can be nullified while working out a Muhurtha.
Cost & Dates
Classes meets Saturday and Sunday from 7 – 9 pm
$35-108 sliding scale
Teacher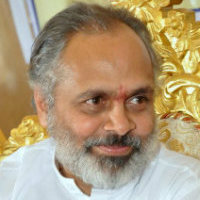 Niranjan Babu
Bangalore Niranjan Babu (http://niranjanbabu.com/) is a scholar in Vastu, Astrology, Mudras, Mantra Shastra, Gemstone and Meditation. He is the son of the most famous Vedic astrologer of all times B.V. Raman, who has been chosen as the Jyotishi to explain the science of Vedic astrology to the United…
Learn more about Niranjan Babu