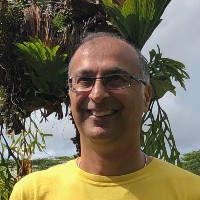 Pavan Manocha is a hatha yoga instructor at the Sivananda Yoga Vedanta Center in San Francisco, and a graduate of the Sivananda Teachers Training Course at the Sivananda Ashram Yoga Farm in Grass Valley, California.
Pavan is an international management consultant and adjunct professor who advises organizations embed sustainability into their operations.  Relevant clients served include the United Nations (UN) and the World Economic Forum (WEF).  His teaching interests are in applied sustainability, which explores the yoga of Karma and Sustainable Development from the philosophical lens of the Bhagavad Gita.
Pavan was born in New Delhi, India, educated in the United Kingdom, and has been living and working in the United States for the past twenty-five years.  He holds postgraduate degrees in Sustainability Leadership from the University of Cambridge, UK, and has been visiting the Sivananda Ashram Yoga Farm for over twenty-years.