7-day Meditation Course
with Swami Jnaneswariananda
September 22 - 29, 2019
Description
This Meditation Course will give you a chance to relax, take a break from your life and discover how to find inner peace, contentment and happiness through the powerful tool of meditation. Discover the secret to balanced living and spiritual insight.
For 7 days, students will immerse themselves in learning what meditation is, why meditate, how to meditate, and the obstacles they will encounter, eventually building a sustainable and balanced meditation practice that is compatible with their life.
This course is ideal for sincere aspirants, yoga teachers, therapists, and health professionals. The course offers an opportunity for you to know your mind under the guidance of an experienced meditation teacher. You will learn the basic techniques of meditation according to the four classical paths of Yoga.
You will learn how to:
Improve your concentration and focus in your daily life
Experience less stress & anxiety
Reduce anger & frustration
Enjoy greater inner peace & happiness
Increase your confidence & self-esteem
Improve your mental and physical well being
Develop a positive outlook on life and better relationships
Curriculum
Basic techniques of meditation according to the four classical paths of Yoga
How to create space for meditation
The use of mantras and visualization
Thought power and transformation
How to practice self-observation and develop awareness
Mechanics of the mind
Concentration theory and practice
Mental and emotional obstacles to meditation
How to deal with the subconscious
Theory of karma
Purification of the three bodies
Prana and pranayama
Daily Schedule
6-8am Satsang: Silent meditation, chanting and lecture
8-10am Yoga Class
10am Brunch
11am Karma Yoga
1-3pm Meditation Workshop
3-4pm Free Time and Nature walks
4-6pm Yoga Class
Teacher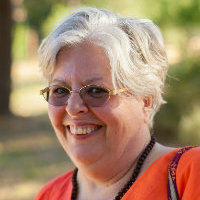 Swami Jnaneswariananda
Swami Jnaneswariananda joined the Sivananda Yoga Vedanta Centers in 1995 and has been director of centers and ashrams in Canada and Italy. She teaches Hatha Yoga, Meditation, Anatomy, and Vedanta at Teacher Training Courses in North America, Italy and India.…
Learn more about Swami Jnaneswariananda